If you are an undertaker in 1878 Kansas City, and you learn that your competitor's wife works as a telephone switchboard operator and has been diverting business calls meant for you to her husband, you have three potential courses of action:
Contact the telephone company and try to get the operator fired.
Take the operator and her husband to civil court and try to sue for damages.
Revolutionize the entire telephone system by inventing an automatic telephone switching system that allows people to dial each other directly, thereby eliminating any need for a telephone switchboard operator.
Almon Brown Strowger went with (3).
Strowger wasn't the first to come up with the idea of an automatic telephone switching system, but his concept was the first that would work on more than a handful of phones within a system. He was awarded a patent in 1891.
Of course, Strowger didn't know how to make the thing. He was an undertaker, after all. Strowger conscripted his nephew and some business partners to help develop a working prototype, which they tested out in the best of all possible places: La Porte, Indiana.
Courts had recently ruled that the independent telephone company that served La Porte was in violation of Bell Telephone patents. La Porte's telephone infrastructure was dismantled, and suddenly, this reasonably large town had no operating telephone system. Strowger and his team swooped in. La Porte became the first place in the world to have automatic, operator-free telephone dialing.
Bell eventually acquired the technology in 1916 and the Strowger Switch, as it was called, became standard equipment throughout the 20th century.
Strowger Switches today.
Meanwhile.
Last July, we told the story of the Purple Hotel. Here's the original story, with an update at the end.
Visual spoiler:
What's the difference between what the public sees and what an architect sees when they look at a building?
The hotel on the very prominent corner of Touhy and Kilbourn Avenues in Lincolnwood, Illinois used to be the town's most famous building: The first Hyatt hotel in all of Chicagoland, premiere accommodations, top-notch restaurant. It was swank! Roberta Flack stayed there. Barry Manilow stayed there. Perry Como. Michael Jordon stayed there on his first night in Chicago. Every thirteen-year-old in the area had their bar mitzvah there.
Then, slowly, over time, it became Lincolnwood's most infamous building. Changed hands, got seedy and run down. It was the home of the Midwest Fetish Fair and Marketplace convention. There were drug-fueled sex parties attended by shady Chicago politicians later convicted of things like extortion. And of course there was the convicted mobster Alan Dorfman, who was gunned down in the parking lot. It's now dilapidated and empty.
But even if you know nothing about the history, everyone in the area knows this hotel.
Because it's purple. Really, really purple.
Gwen Macsai grew up nearby and she always thought it was really, really ugly. Lots of people did. To be fair, lots of people didn't. But everyone has an opinion about it.
But Gwen Macsai, host of Re:sound from the Third Coast International Audio Festival, has a secret about the Purple Hotel.
Gwen talks to the original architect of the Purple Hotel, plus WBEZ architecture critic Lee Bey, developer Jack Weiss, and the new architect, Jackie Koo, who's looking to bring the Purple Hotel back to its former glory.
Photos of the hotel in its glory days: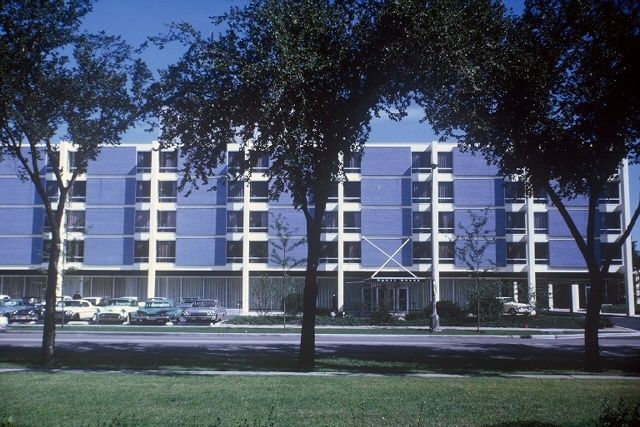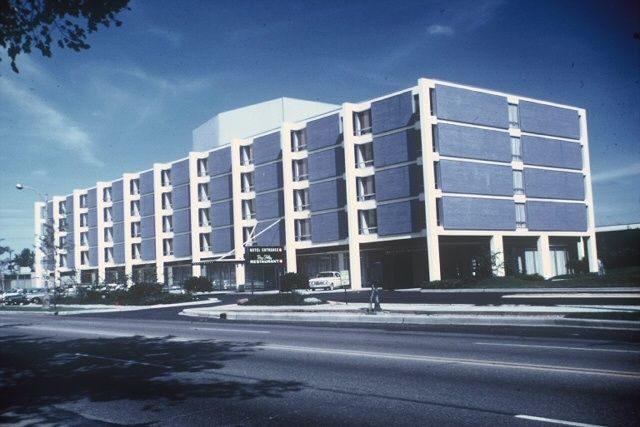 Photos of the hotel during its less glorious days in 2011:
It turns out that it would cost $40 million to renovate the hotel. So on August 27, 2013, the parking lot of the Purple Hotel was filled with local dignitaries from Lincolnwood, Illinois. Even the mayor was there. The wrecking ball had, at long last, come for the Purple Hotel. And the people were celebrating.
Architect John Macsai was the man of the hour.
John was even given a purple plaque.
I really, really hope Gwen will save me a brick from the demolition site.