Though its official name is JFK Plaza, the open space near Philadelphia's City Hall is more commonly known as LOVE Park, after the Robert Indiana sculpture installed there.
Designed by Edmund Bacon and Vincent Kling, the park was fashioned in high modernism: sleek, granite benches; geometric raised planter beds, and long expanses of pavement. Its success as a pedestrian plaza is debatable.
But it turned out to be perfect for skateboarding.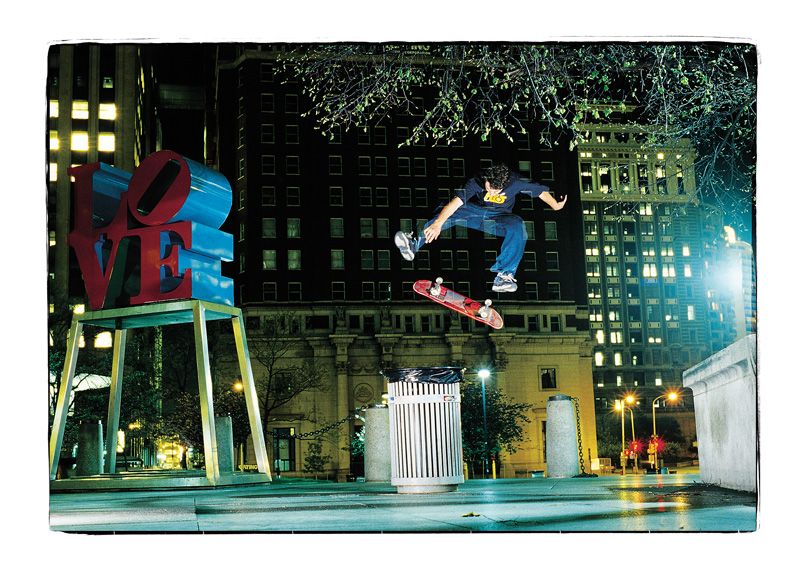 You could even make skateboard ramps by pulling up the concrete tiles.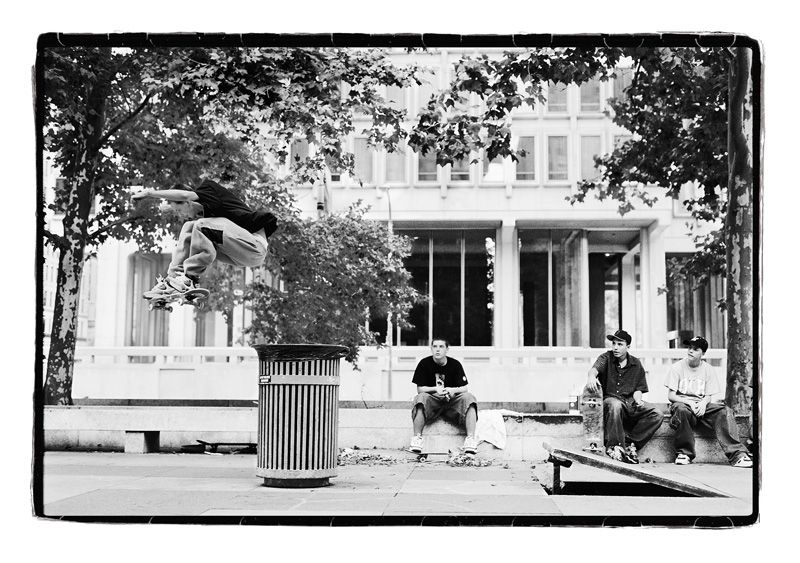 Skaters started filming themselves at LOVE Park in the early 1990s. Once their videos found their way to California (the epicenter of the skating world), Philadelphia became a skating destination. As the skateboarding industry grew, so did the popularity of LOVE Park. By the end of the decade, professional skaters moved to Philly just to skate in LOVE every day.
LOVE Park may have become the Mecca of skateboarding, but skateboarding was never a legal activity there. Police chased (and still chase) away skateboarders, and can issue fines or even confiscate boards. And as the city gentrified, the grip on skating in LOVE Park tightened, and the city announced that the park would undergo a $1 million redesign to make the park unskateable. DC Shoes, a skateboarding footwear company, offered to match the city's $1 million if they would keep the park as-is and use the money to repair the wear and tear done by the skaters. The city declined and renovated the park in 2002.
"The major thing they did was they removed all the of the granite benches that were there, these giant slabs of granite that were these great skateable elements," says Philadelphia architect Tony Bracali. "And they replaced them with Williams Sonoma-ish wood benches that look like they belong in an 1890s kind of park."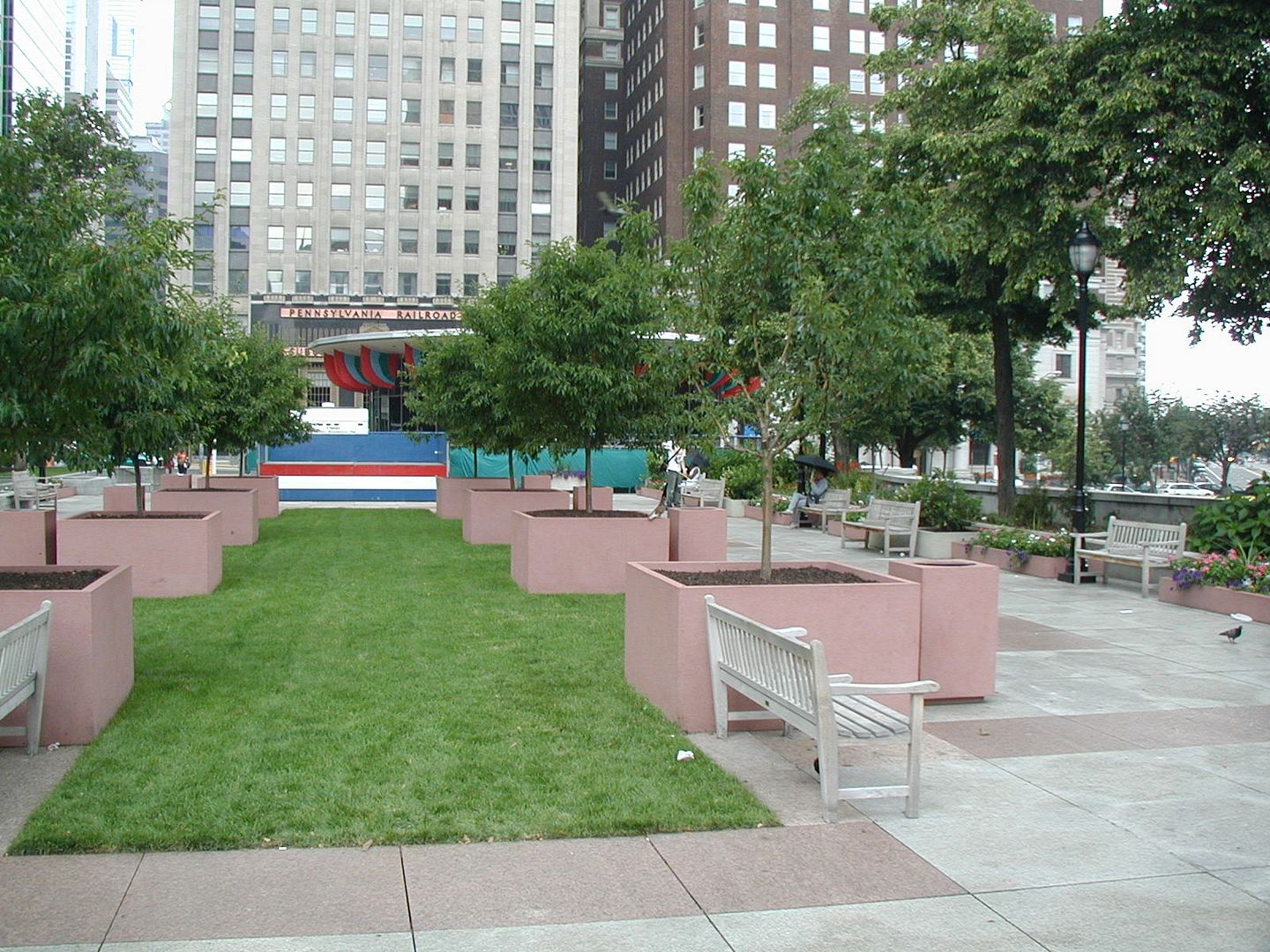 Though Bracali is not a skateboarder himself, he's become an advocate for skateboarders' rights and argues that skateboarding actually improves the life of public places.
LOVE Park's renovation didn't just upset the skateboarders. Edmund Bacon, one of the park's designers, was so impressed with the skateboarders' ability to find a new use for the space he designed, that at age 92, Bacon skated in LOVE Park in protest of the crackdown.
Edmund Bacon Skates Love Park from WHYY on Vimeo.
Other cities deployed anti-skating countermeasures as well. In San Francisco, innocuous-looking marine life sculptures were installed around the Embarcadero to render ledges ungrindable, and "skatestoppers" were put on ledges at another SF skating landmark called Hubba Hideout.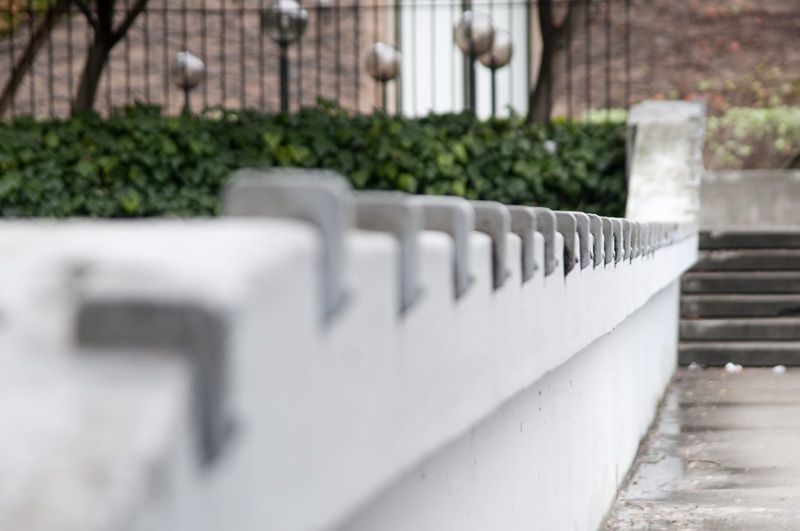 But skateboarding culture is a culture of adaptation. DC Shoes, after failing to keep LOVE Park from being renovated, opened their own skate park in Kettering, OH, using similar features found in LOVE Park. Tony Bracali, the architect, is working to create skateable public places so skating doesn't have to be confined only to the skate park. And in Tacoma, WA, skateboarders won the right to remove skatestoppers in what is now known as Thea's Park.
If you don't skateboard, don't live in Philly, or don't want to get chased by the cops, you can skate LOVE Park virtually — and in a few different ways, too. Tony Hawk's Pro Skater 2 was the first to include a LOVE Park level, but some gamers have re-created their own LOVE Park in other games, such as EA Skate 3.
Our reporter this week is Andrew Norton, a Toronto-based skateboard photographer-turned-radio producer. Andrew Norton is a proud graduate of the Transom Story Workshop, led by our friend Rob Rosenthal from HowSound.