Episode 70- The Great Red Car Conspiracy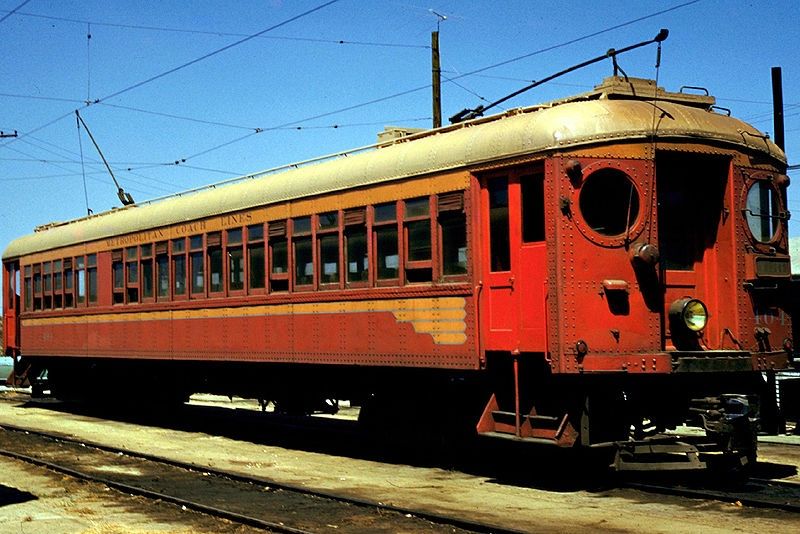 When Eric Molinsky lived in Los Angeles, he kept hearing this story about a bygone transportation system called the Red Car. The Red Car, he was told, had been this amazing network of streetcars that connected the city—until a car company bought it, dismantled it, and forced a dependency on freeways.
If this sounds familiar, it might be because it was the evil scheme revealed at the end of the Robert Zemeckis's 1988 movie, Who Framed Roger Rabbit?
But like most legends, the one that Eric heard about the Red Car is not entirely accurate. It's true that Los Angeles did have an extensive mass transit system called the Red Car, which at one time ran on 1,100 miles of track—about 25 percent more more track mileage than New York City has today, a century later.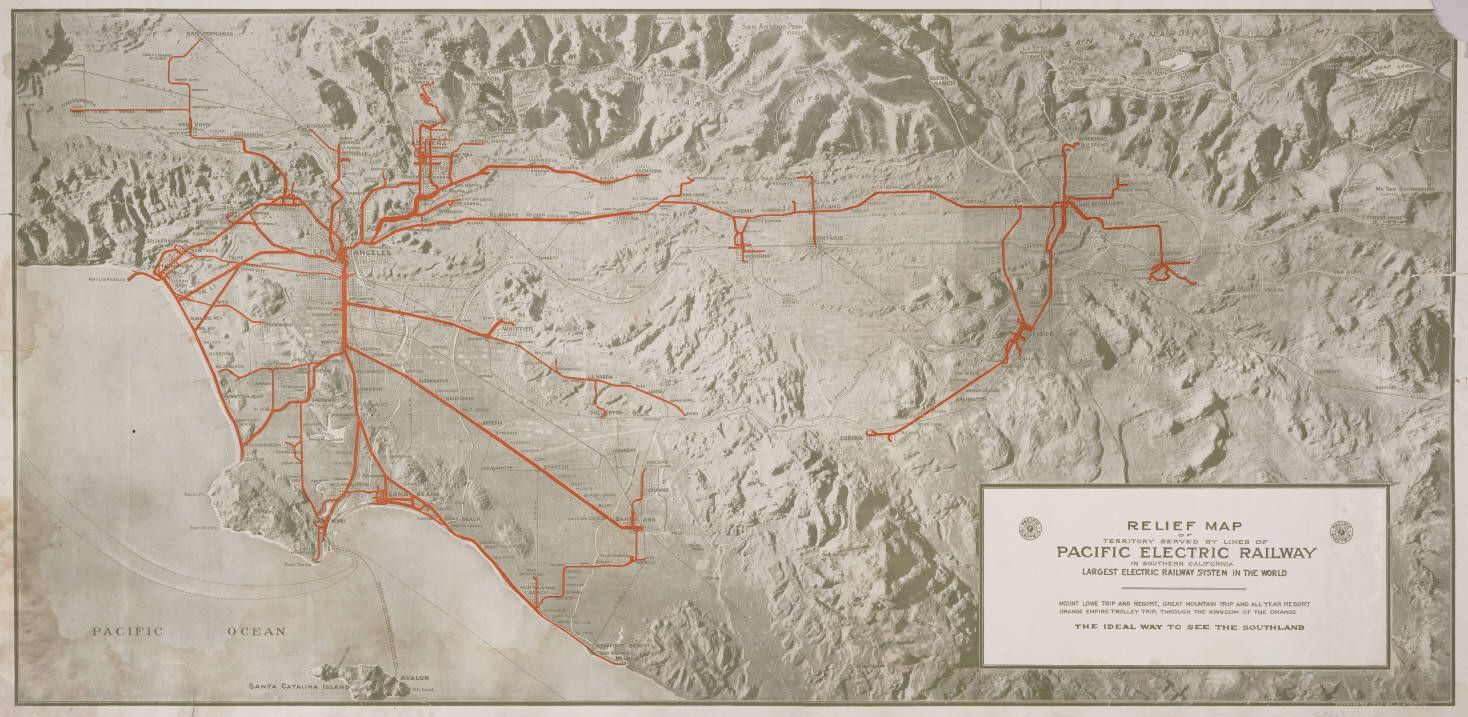 But the Red Car wasn't the victim of a conspiracy. The Red Car was the conspiracy. 
Our reporter Eric Molinsky spoke with historian Bill Friedricks, who says that to understand the Red Car, you first need to know about Henry Huntington, one of the major power brokers of Los Angeles. If you've ever heard of Huntington Beach, Huntington Park, or the Huntington Library, this is that Huntington.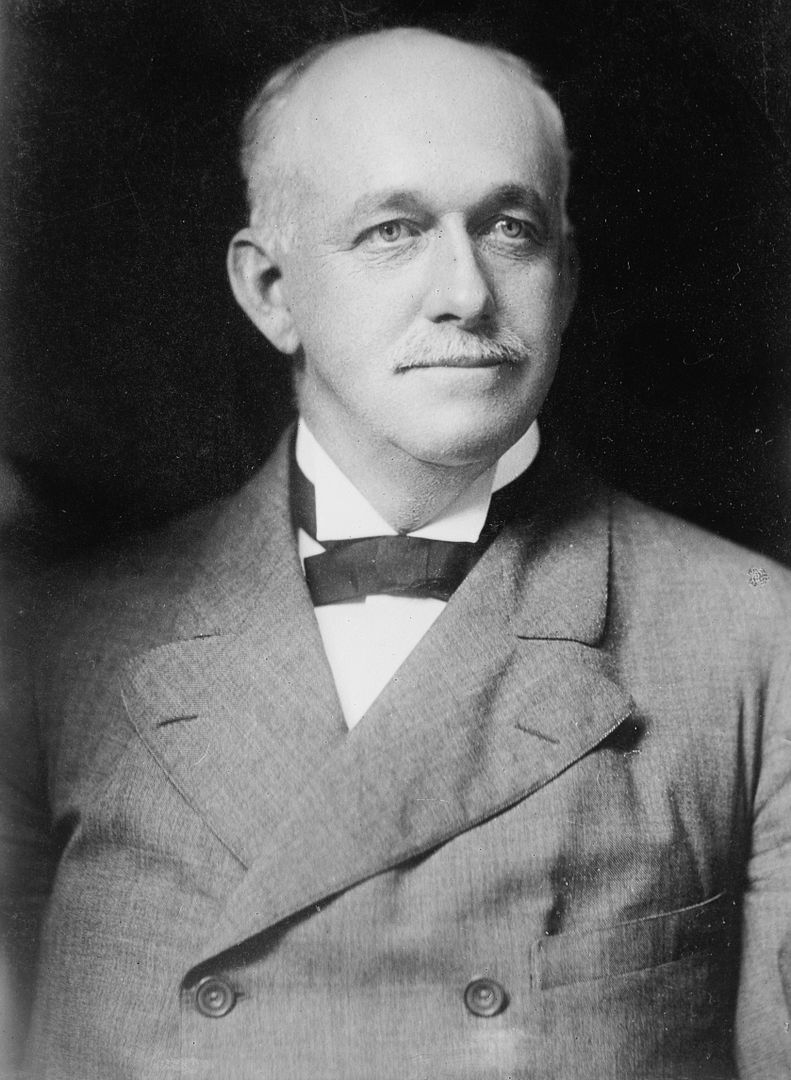 Henry Huntington was the nephew of railroad magnate Collis Huntington, who mentored Henry and taught him the family business. When Collis Huntington died in 1900, Henry expected that he would inherit his uncle's company, Southern Pacific. But Southern Pacific's board didn't want another Huntington in charge. They forced him out, but gave him a $15 million payout (about $400 million today).  
Henry Huntington took his money and headed for Los Angeles. He purchased the biggest transportation system in the city, The Los Angeles Railway (LARy), and then incorporated it into a new company called Pacific Electric. Huntington also started building hundreds of subdivisions on the periphery of Los Angeles, and used Pacific Electric trains—bright red trolleys—to connect the subdivisions to downtown Los Angeles.  
Over time, though, Huntington had built so many subdivisions that his Red Car couldn't do a good enough job connecting the city's disparate areas. The Red Car was never designed to be a comprehensive system like the New York City Subway; rather, it existed primarily to get people in and out of Huntington's subdivisions. Angelenos who could afford cars found it was easier to get around by driving. The Red Car fell into disrepair, and was mocked as a "slum on wheels."
Eventually, Southern Pacific (the company Huntington thought he would inherit from his uncle Hollis) bought Pacific Electric, and in 1926 they offered Los Angles a massive plan to use public dollars to build subways and elevated trains around downtown L.A. But California voters didn't trust Southern Pacific, which had meddled in California politics for so long that people called it "The Octopus." The people voted against the plan.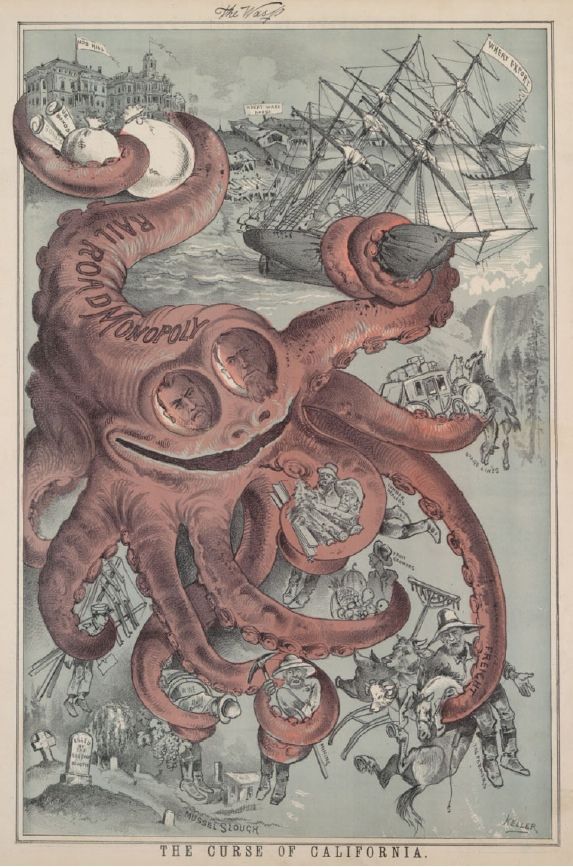 Red Car routes were decommissioned, and bus routes and freeways would eventually replace the Red Car entirely. The last Red Car ran in 1961.
But if you look carefully, you can still spot evidence of the old Pacific Electric Railroad company, especially around Santa Monica.
To find out more about the Red Car, check out Bill Friedrick's book, Henry E. Huntington and the Creation of Southern California (which you can read, in entirety, for free!).  
Or, you can just go play L.A. Noire.
No longer an Angeleno, Eric Molinsky is now based in Brooklyn, where he makes radio and draws people on the subway.
Episode 69- The Brief and Tumultuous Life of the New UC Logo
**Subscribe to the 99% Invisible podcast in iTunes or the podcatcher of your choice.**
If you're not from California, or missed this bit of news, the University of California has a new logo. Or rather had a new logo. To be more precise they had a new "visual identity system," which is the kind of entirely accurate but completely wonky description that gets met with sarcastic eye rolls from anyone who isn't a designer, but there it is. But they don't have a new anything logo anymore. Because of a massive public backlash, the UC system actually suspended the entire new brand identity monogram while we were reporting this story.
In this episode, we talk to the Creative Director of the UC Office of the President, Vanessa Correa, who led the team that created this short-lived brand identity and Christopher Simmons, principal of MINE, who waded into the UC logo fight with a brilliant blog post called "Why the UC Rebrand is Better Than You Think."
One of the factors that contributed to the negative public reaction was that fact that the UC monogram was often depicted side by side with the classic University seal in media reports.
Christopher Simmons argues that this image, and the general ignorance of the press, implied that the UC monogram was replacing the seal. Actually, the seal was not going anywhere, but this fact was not always clear. And even if the text was accurate regarding the logo's relationship with the seal, the visual language of the juxtaposition cemented people's expectations instantly. The blog Brand New depicted a more accurate representation of the visual identity evolution.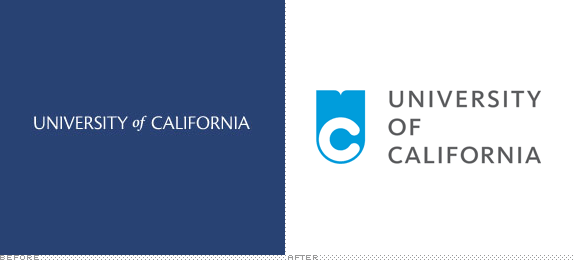 Another piece of the marketing that misled the public was the University produced video that graphically illustrated some of the design elements in the monogram being pulled out of the seal, followed by the old seal being brushed aside. As a stand-alone statement, the video reinforced a lot of the fears that people had about the new logo and what it might replace.
Fourth generation UC Berkeley alum, Cyrus Farivar (see episodes #36 and #55, true believers) takes a look at the new UC logo and chronicles its tumultuous life and rapid death. We also use this opportunity to ruminate on the topic of how and when a design should be judged.
Important clarification from Vanessa Correa: "To be entirely accurate, the university didn't suspend the entire new brand identity, but rather, just the monogram. (I've become a stickler for accuracy as of late. It's a new thing with me.)"**
**We corrected the audio to reflect this clarification. I'm embarrassed by the error.
Ira Glass mentions me and 99% Invisible by name in his commencement address at the CUNY Grad School of Journalism. Really! It's in the first couple minutes. Later on he mentions pig rectum, so stay tuned!
Episode 68- Built for Speed
**Subscribe to the 99% Invisible podcast in iTunes or the podcatcher of your choice.**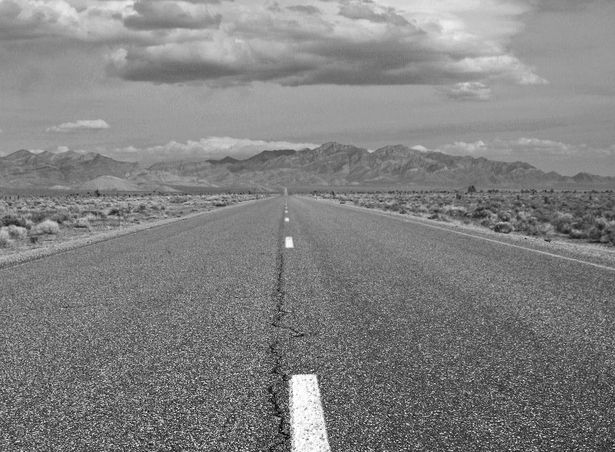 I want you to conjure an image in your mind of the white stripes that divide the lanes of traffic going the same direction on a major highway. How long are the stripes and the spaces between them?
You can spread your arms out to estimate if you want to.
Over the course of many years, a psychology researcher named Dennis Schafer at Ohio State asked students from many different parts of the country this question and the most common response was that the white stripes are two feet long.
Tom Vanderbilt, author of the brilliant book Traffic: Why We Drive the Way We Do (and What It Says About Us), reveals the real answer and some of the other perceptual countermeasures that are designed to make you feel comfortable going way faster than your brain can adequately process.
We also talk about how this design language of exaggerated scale and wide vistas is great for limited access highways, but it's problematic when these features are grafted onto suburban landscapes where they don't belong.

All the music in this episode is courtesy of my favorite new label, the Utah based, Hel Audio. Specifically, we played the bands OK Ikumi and Mooninite. Hel Audio focuses on physical releases of electronic and experimental music. I just bought myself the full Hel Audio catalog on four glorious cassette tapes, along with less glorious but more versatile (and free with purchase) digital downloads of the same songs. The tape deck in my twelve-year-old Golf has never been happier.

I, and every other creative audio lover, owe a huge debt to The Third Coast International Audio Festival, and every year I send them a small donation to make sure they keep going, or I buy a t-shirt. They have hands-down my favorite t-shirt design in the whole world— across the front is the word "listen" written in Braille. I have something like six of them in every color. A must have for any radio lover. You can find out more at thirdcoastfestival.org.
Episode 67- Broken Window
**Subscribe to the 99% Invisible podcast in iTunes or the podcatcher of your choice.**
When Melissa Lee was growing up in Hastings-on-Hudson, a small town in upstate New York, there were only so many fun things to do.  One was buying geodes and smashing them apart with a hammer. (You know geodes, right?  Those dull-looking brown rocks that you break open to reveal crystalline structures inside?)

One day, when Melissa was thirteen, she and her friend Liz bought some geodes, They didn't want to wait to get home to crack them open, so they decided to throw them against the wall of an apartment building.
Liz's aim went wild on one of the geodes, and it went through a window.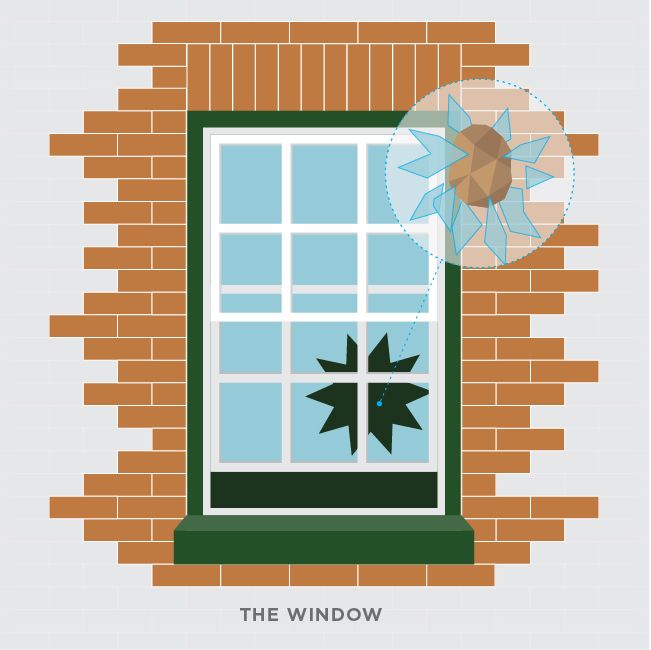 Melissa and Liz tried to find person whose window they had broken, but they couldn't figure out which door in the apartment building lead to the unit with the window in question.  Eventually they gave up.

Melissa would have probably forgotten about the incident had it not been for one inexplicable thing: the window didn't get fixed.  Ever.

It was clear that someone lived there.  Melissa would walk by the window and see the apartment lit up by a TV.  Someone was opening the window in the summer, and closing it in the winter.  But the hole remained.

Melissa finished middle school, then high school, then went away to college.  And when she came home and saw the window still broken, it had this effect of making her feel like the nervous, insecure thirteen year old she was when she broke the window. 

This became a pattern for Melissa: she'd leave home, do some growing up, come home, see the window, and feel like a teenager. 

Melissa traveled the world.  She went to graduate school,  She moved to Washington, DC, She got married.  And every time she'd come home, she'd see the window.  "As much as I was changing, this part of my past was completely frozen," Melissa says.  "As soon as I saw the window I was brought right back to those middle school days when we had broken it."
So in 2011, 22 years after the incident, Melissa went to go find the person who left the window broken for so long.  She brought along a tape recorder.
Images this week are by Emile Holmewood, a New Zealand-based graphic designer & illustrator. Find more of his amazing work at The Caravan.
Episode 66- Kowloon Walled City
**Subscribe to the 99% Invisible podcast in iTunes or the podcatcher of your choice.**
Kowloon Walled City was the densest place in the world, ever.
("Walled City Night Views (from SW Corner), 1987." Greg Girard.)
By its peak in the 1990s, the 6.5 acre Kowloon Walled City was home to at least 33,000 people (with estimates of up to 50,000).  That's a population density of at least 3.2 million per square mile.  For New York City to get that dense, every man, woman, and child living in Texas would have to move to Manhattan. 

To put it another way, think about living in a 1,200 square foot home.  Then imagine yourself living with 9 other people.  Then imagine that your building is only one unit of a twelve-story building, and every other unit is as full as yours.  Then imagine hundreds those buildings crammed together in a space the size of four football fields.

We can't really imagine it, either.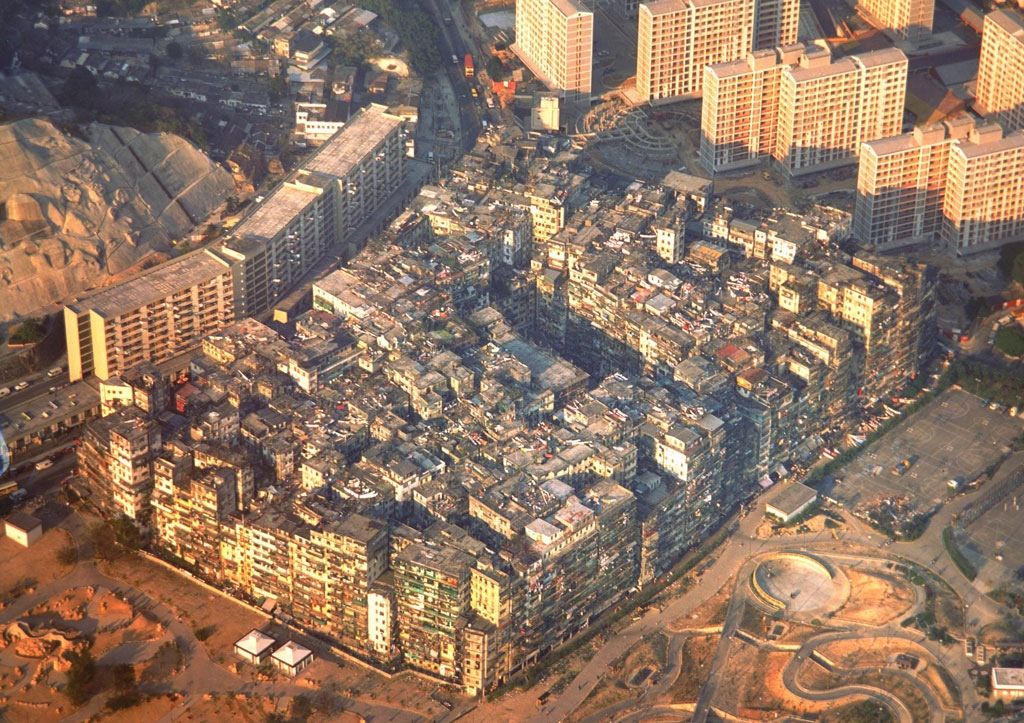 (Credit: Ian Lambot)
Kowloon Walled City began as a military fort in Kowloon, a region in mainland China.  In 1898, China signed a land lease with Great Britain, giving the British control of Hong Kong, Kowloon, and other nearby territories.  But the lease stipulated that the fort in Kowloon would remain under Chinese jurisdiction. 

Over time, the fort became abandoned, leaving the area subject to neither Chinese nor British authority.  This legal gray zone was attractive to displaced and marginalized people.  Thousands of people moved there after the war with Japan broke out in 1937.  Even more people moved there after the Communist Revolution.  It attracted gangsters, drug addicts, sex workers, and refugees.  And it also drew a lot of normal people from all over China who saw opportunity there. 

They built the city building by building, first blanketing the area of the fort, then building vertically.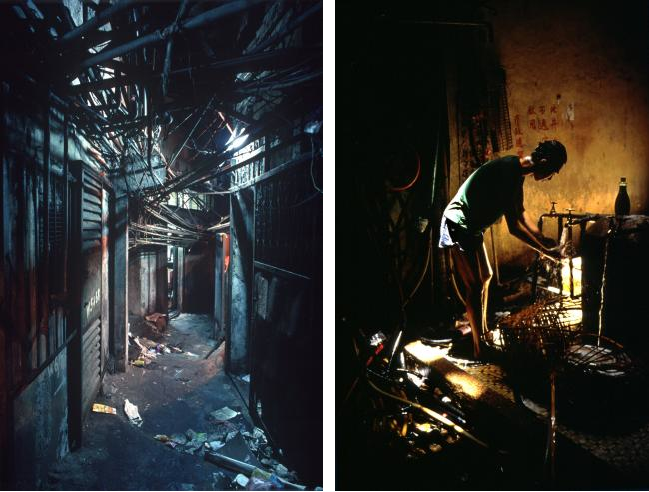 (Left: "West Side Street (Overhead Pipes), 1990."  Right:  "Water Standpipe (Man Washing), 1989."  Greg Girard.)
Buildings were packed together so tightly in the Walled City that the alleys were nearly pitch-black in the day time.  Electricity and water were brought in by illegal or informal means. 

There was no garbage collection, so people pitched their trash out of their windows.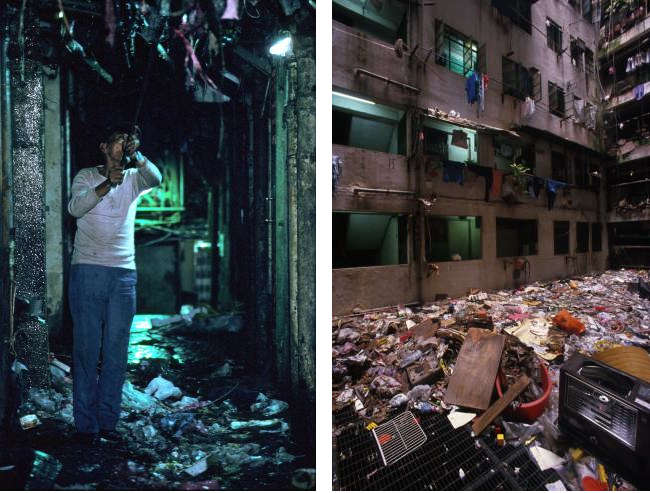 (Left: "Dislodging Refuse from Overhead Pipes, 1987."  Left: "Grill Above Temple Roof, 1989."  Greg Girard.)
This sewer grate pictured above was installed to keep garbage from falling onto the roof of a temple, seen below.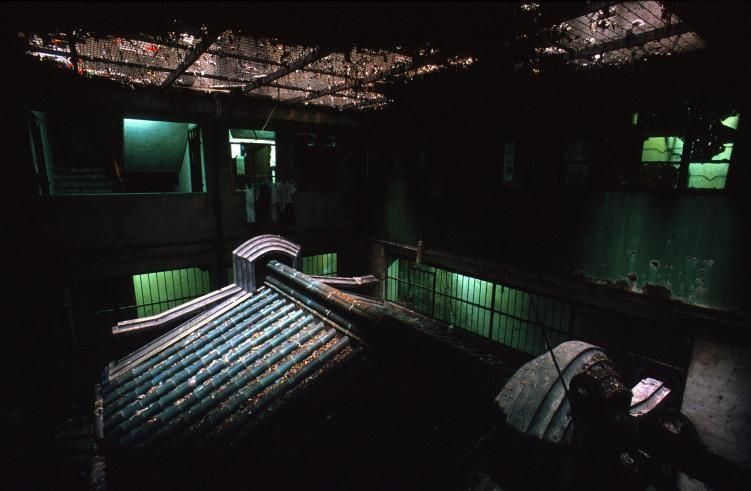 ("Grill Below Temple Roof, 1989."  Greg Girard.)
The Walled City gained a reputation as a sort of den of iniquity—there were high levels of prostitution, gambling, mafia activity, and rampant unlicensed dentistry.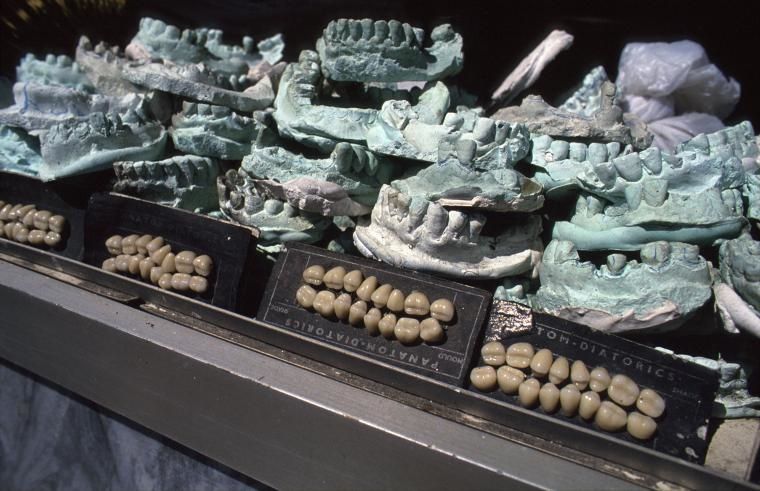 ("Walled City Dentist Window, 1989." Greg Girard.)
But an order did emerge.  There was an informal kindergarten.  A resident's organization settled disputes.  And there was lots of industry.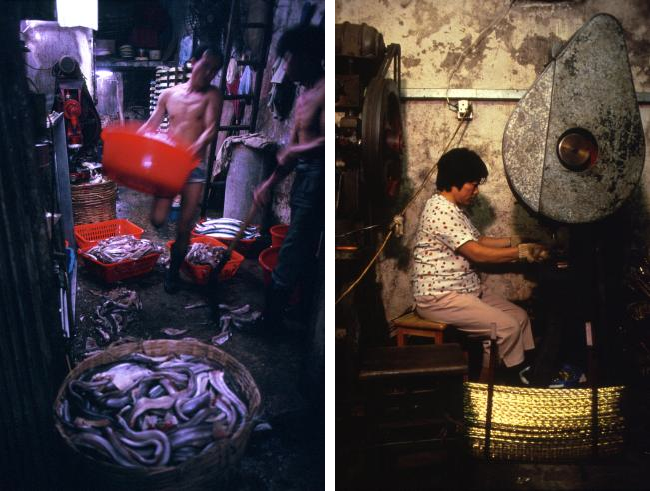 (Left: "Workers in a Fishball Factory, 1987."  Right: "Worker in Metalwork Shop, 1988."  Greg Girard.)
You could even receive mail in the Walled City.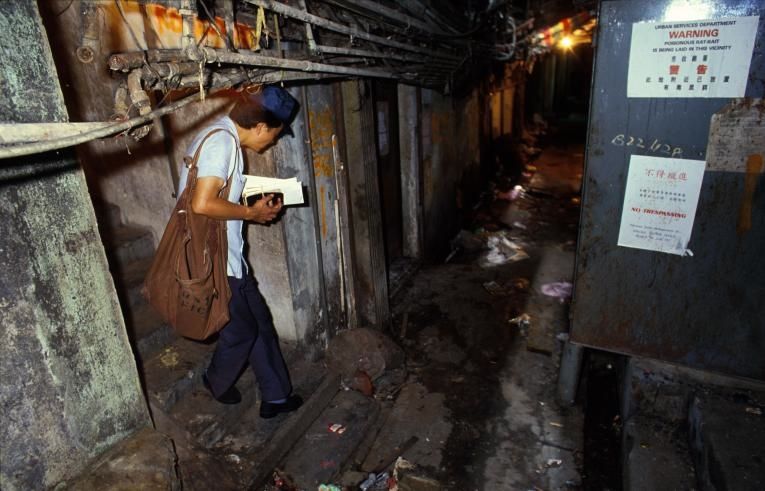 ("Walled City Mail Delivery, 1987." Greg Girard.)
Kowloon Walled City was torn down in 1993.  Today, it's Kowloon Walled City Park.  Most traces of the city are gone, though there is a model of the city cast in bronze.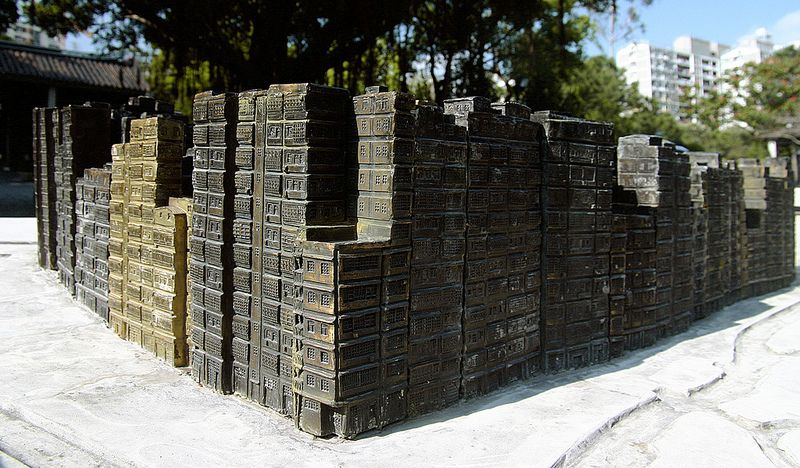 Credit: trevor.patt
But the memory of the city lives on.  It was featured in the non-verbal film Baraka, and plays a cameo role in Bloodsport.
It's also served as the setting in a number of video games, including most recently Call of Duty: Black Ops
If you still can't get enough of Kowloon Walled City, here's an hour-long documentary (in German, with English subtitles)
This week's episode was produced by Nick van der Kolk (whom you may remember from Episode #21).  He spoke with photographer Greg Girard and architect Aaron Tan, who both spent time in the Walled City.  Nick also talked to as Brian Douglas, who helped design Call of Duty: Black Ops.


Nick is the director of the award-winning podcast, Love + Radio.  You can also hear him over at Snap Judgment. Alexander Jerri contributed to this story.


Episode 65- Razzle Dazzle
This is probably not what you think of when you think of camouflage.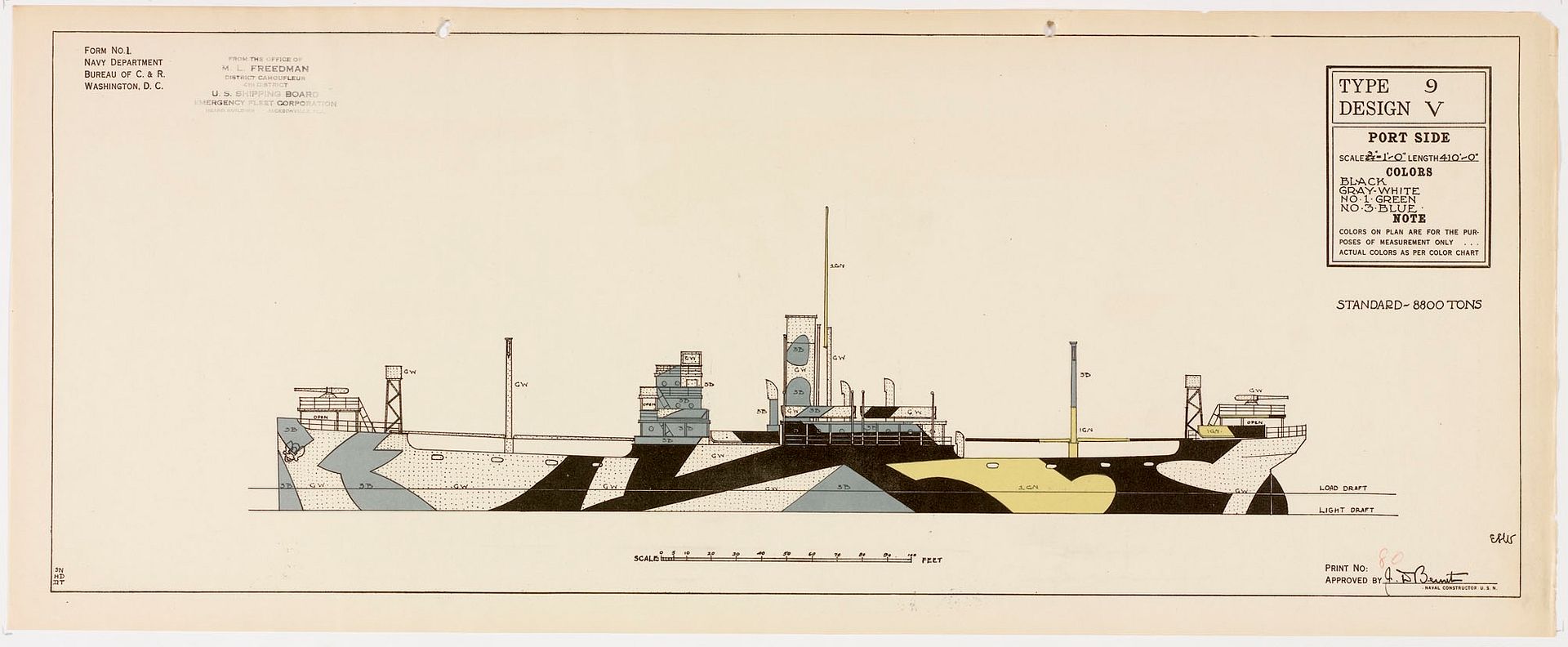 (Erik Gould, courtesy of the Fleet Library at RISD, Providence, RI..)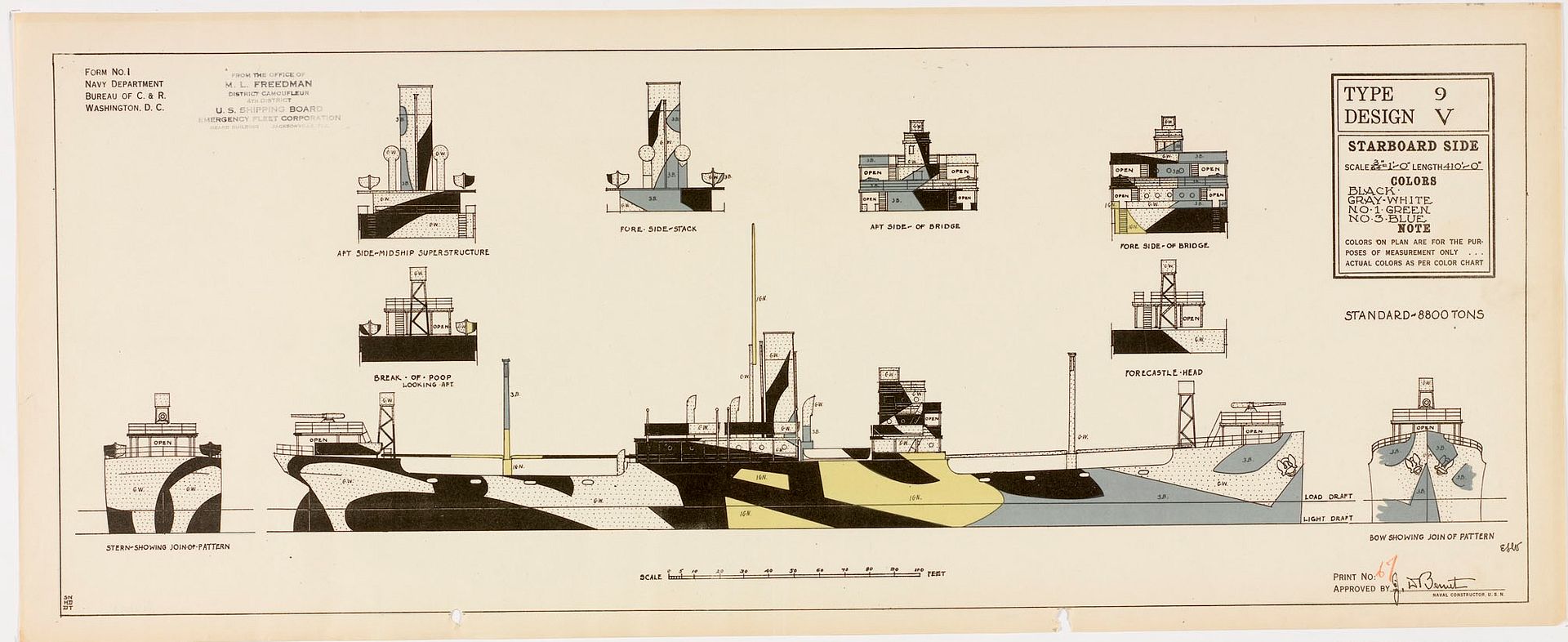 (Erik Gould, courtesy of the Fleet Library at RISD, Providence, RI.)
Becoming invisible with your surroundings is only one type of camouflage.  Camofleurs call this high similarity or blending camouflage.  But camouflage can also take the opposite approach.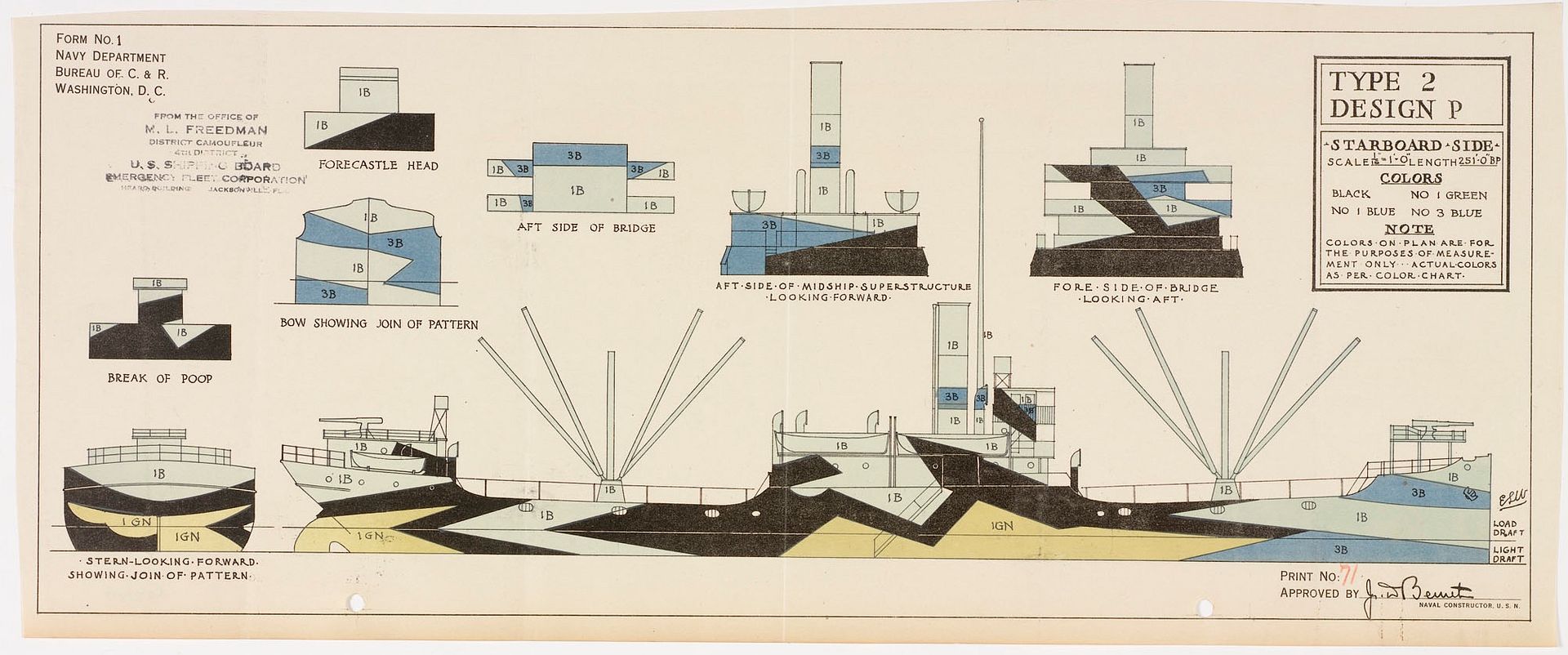 (Erik Gould, courtesy of the Fleet Library at RISD, Providence, RI.)
Think about zebras: it's hypothesized that their stripes make it difficult for a predator to distinguish one from another when the zebras are in a large herd. The stripes also might make zebras less attractive to blood sucking horseflies. This is called disruptive camouflage.

When it comes to humans, the greatest, most jaw-droppingly spectacular application of disruptive camouflage was called Dazzle.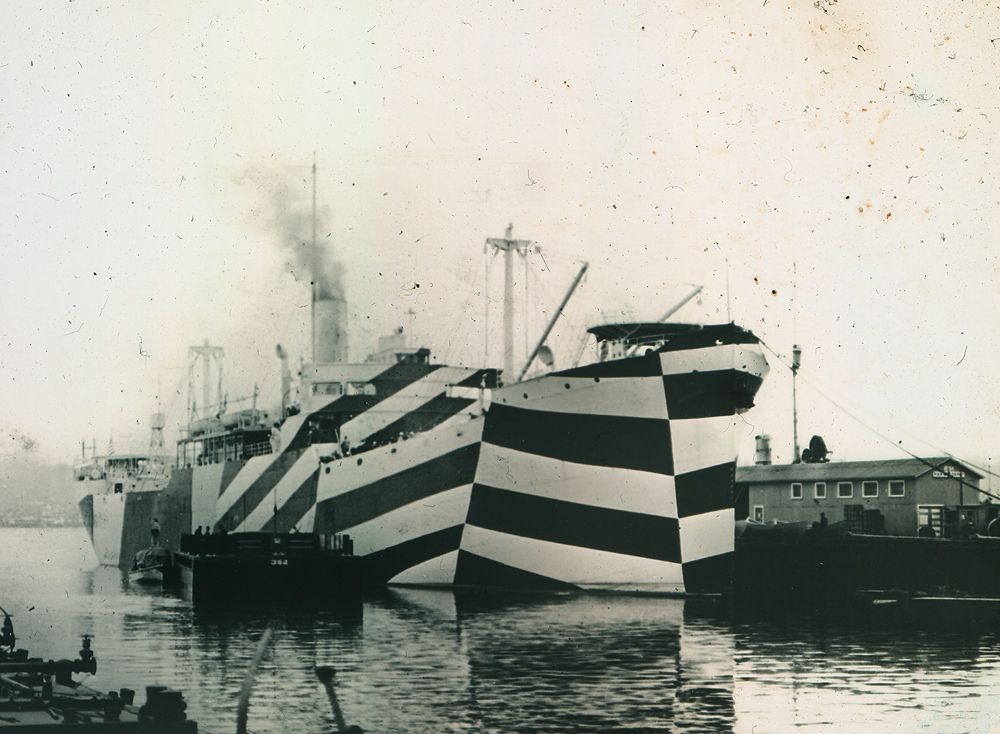 (Anon, photograph of the USS West Mahomet in dazzle camouflage, 1918. Courtesy US Naval Historical and Heritage Command, NH 1733.)
Dazzle painting emerged in the 1910s as design solution to a very dire problem: American and British ships were being sunk left and right by German U-Boats. England needed to import supplies to fight the Central Powers, and these ships were sitting ducks in the Atlantic Ocean.  They needed a way to fend of the torpedoes. 

Conventional high-similarity camouflage just doesn't work in the open sea.  Conditions like the color of the sky, cloud cover, and wave height change all the time, not to mention the fact that there's no way to hid all the smoke left by the ships' smoke stacks. 
 
The strategy of this high-difference, dazzle camouflage was not about invisibility.  It was about disruption.  Confusion.

Torpedoes in the Great War could only be fired line-of-sight, so instead of firing at where they saw the ship was at that moment, torpedo gunners would have to chart out where the ship would be by the time the torpedo got there.  They had to determine the target ship's speed and direction with just a brief look through the periscope.

The torpedo gunner's margin of error for hitting a ship was quite low.  Dazzle painting could throw off an experienced submariner by as much as 55 degrees.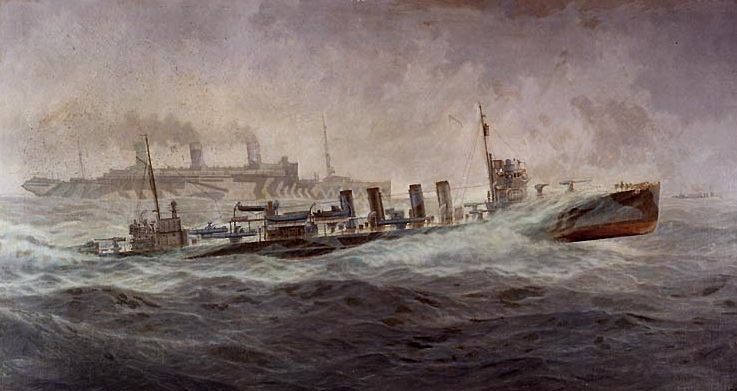 (Burnell Poole, Painting of the USS Leviathan escorted by the USS Allen, 1918. Courtesy US Naval Historical and Heritage Command, NH 42691.
A journalist at the time referred to these dazzling ships as "a flock of sea-going Easter eggs."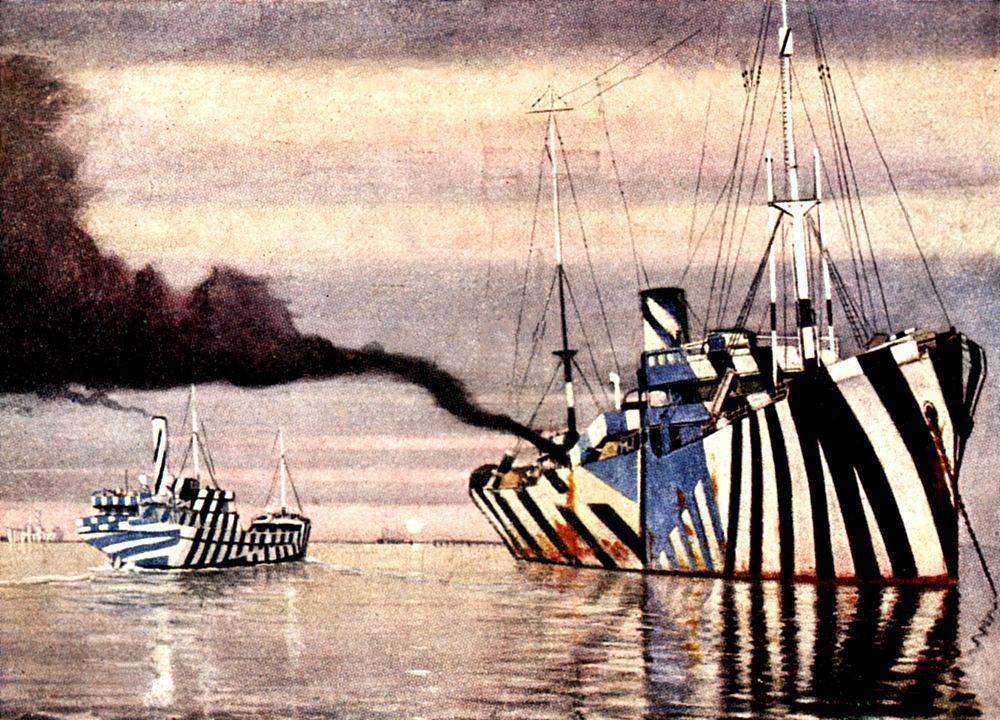 (John Everett, Painting of the SS Lepanto (c1918). Postcard. Collection of Roy R. Behrens.)
An American "Women's Reserve Camouflage Corps" did some of the painting.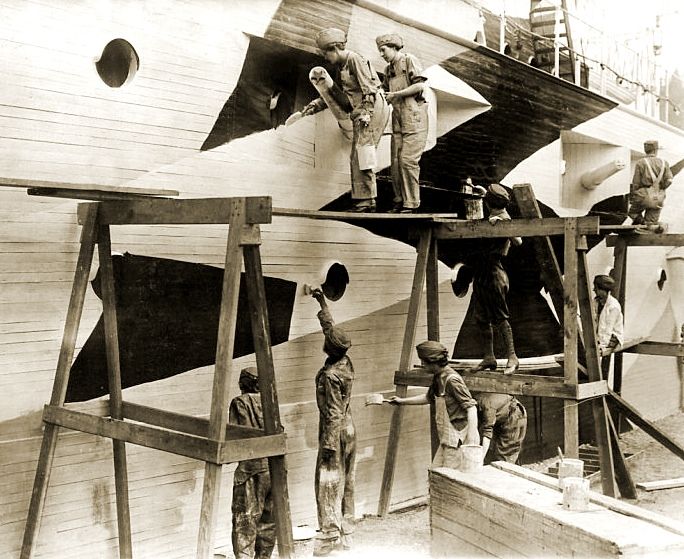 (Anon, government news photograph of members of the US Women's Reserve Camouflage Corps camouflaging the USSRecruit in Union Square, NYC, 1917.)
Dazzle was occasionally ridiculed…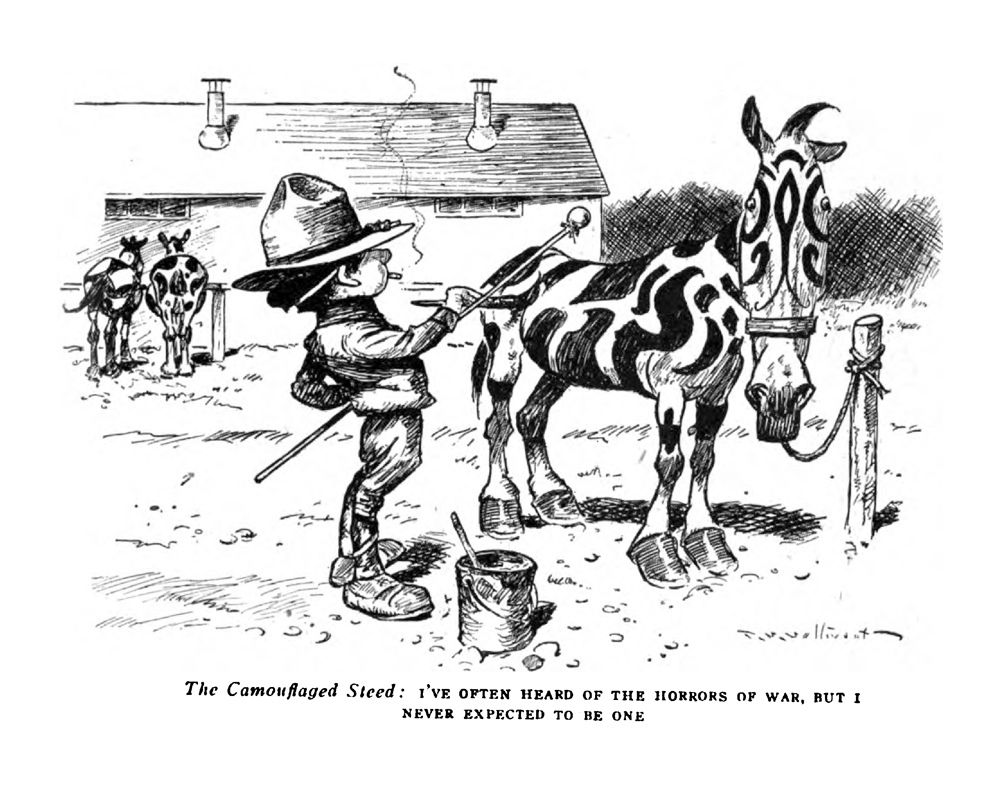 (Life magazine, 1918.)

…but Dazzle also became an influence for fashion.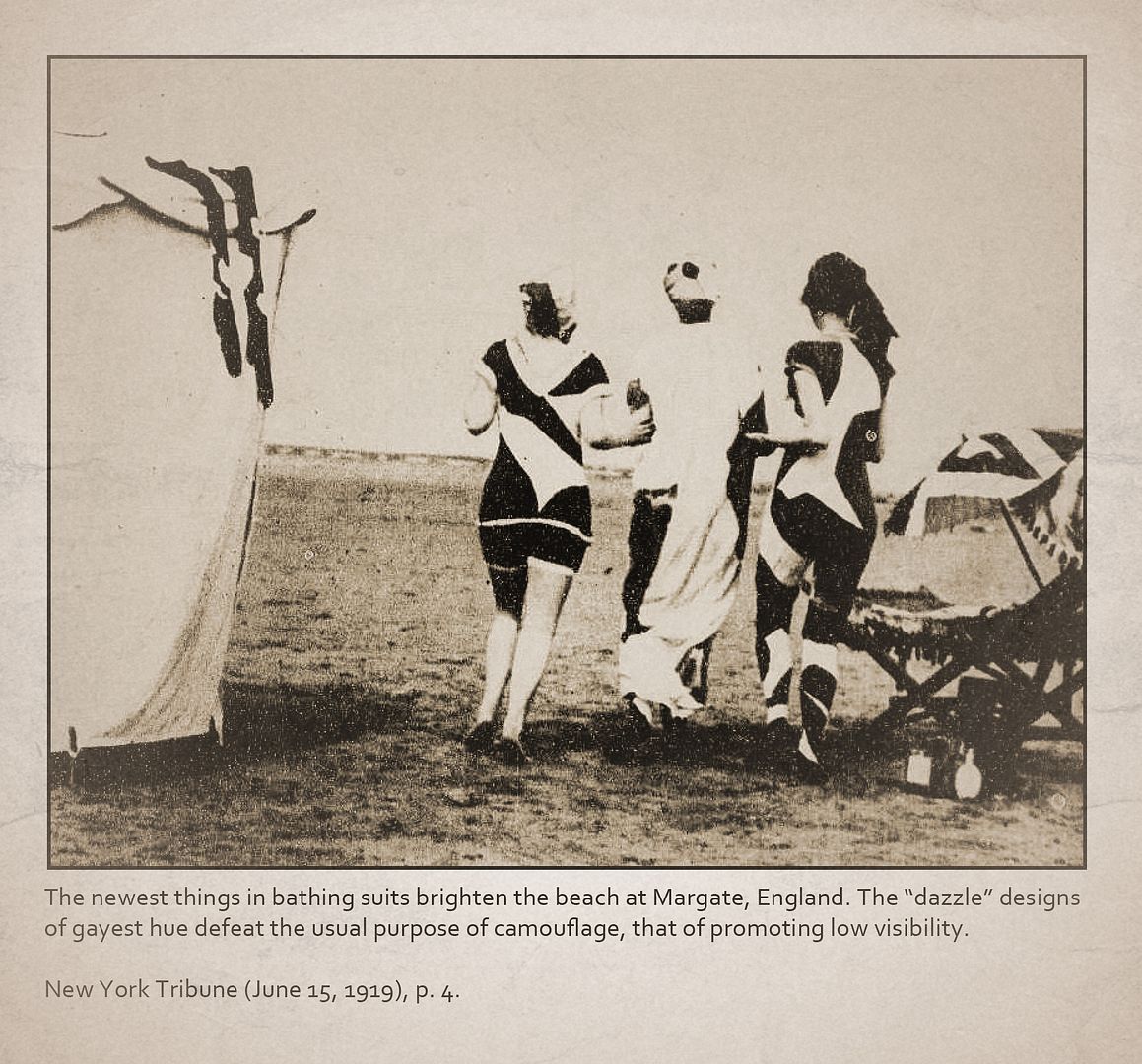 (Anon, newspaper photograph of dazzle-inspired bathing suits at Margate UK, from the New York Tribune, 1919.)

Our expert this week is Roy Behrens, a professor graphic design at the University of Northern Iowa.  He's published several books about camouflage, and also runs the Camoupedia blog.

The theater of war has changed so camouflage has changed with it, but there is still dazzle to be found…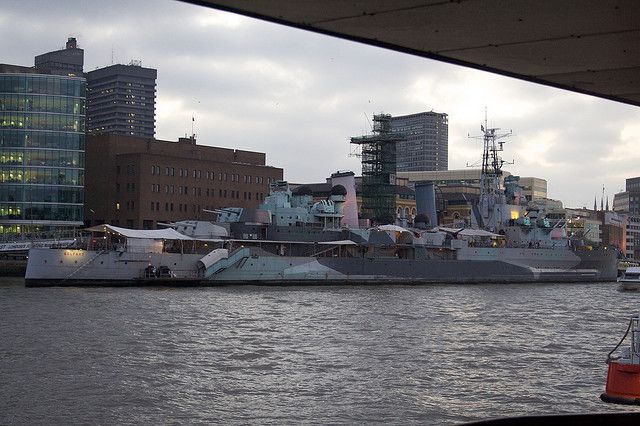 (Credit: Ewan Roberts)
…but sadly, there are no longer flocks of sea-going Easter eggs.
Episode 64- Derelict Dome
In the Cape Cod town of Woods Hole, buildings do not usually look like this: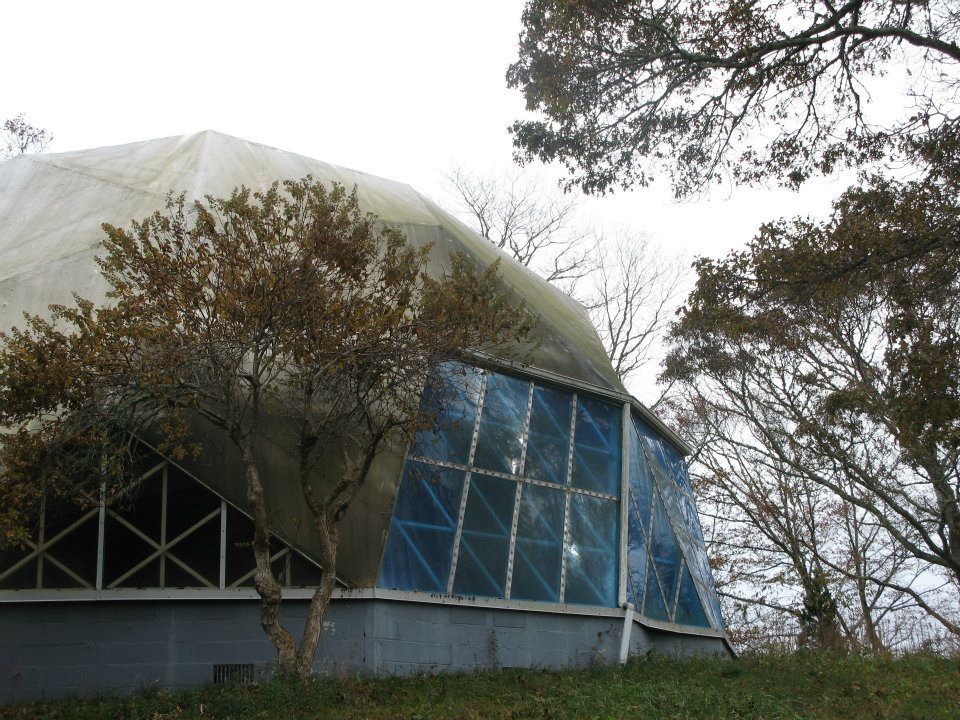 (Credit:  Will Coley)
Producer Katie Klocksin was pretty surprised when she came across it.  She found a way inside.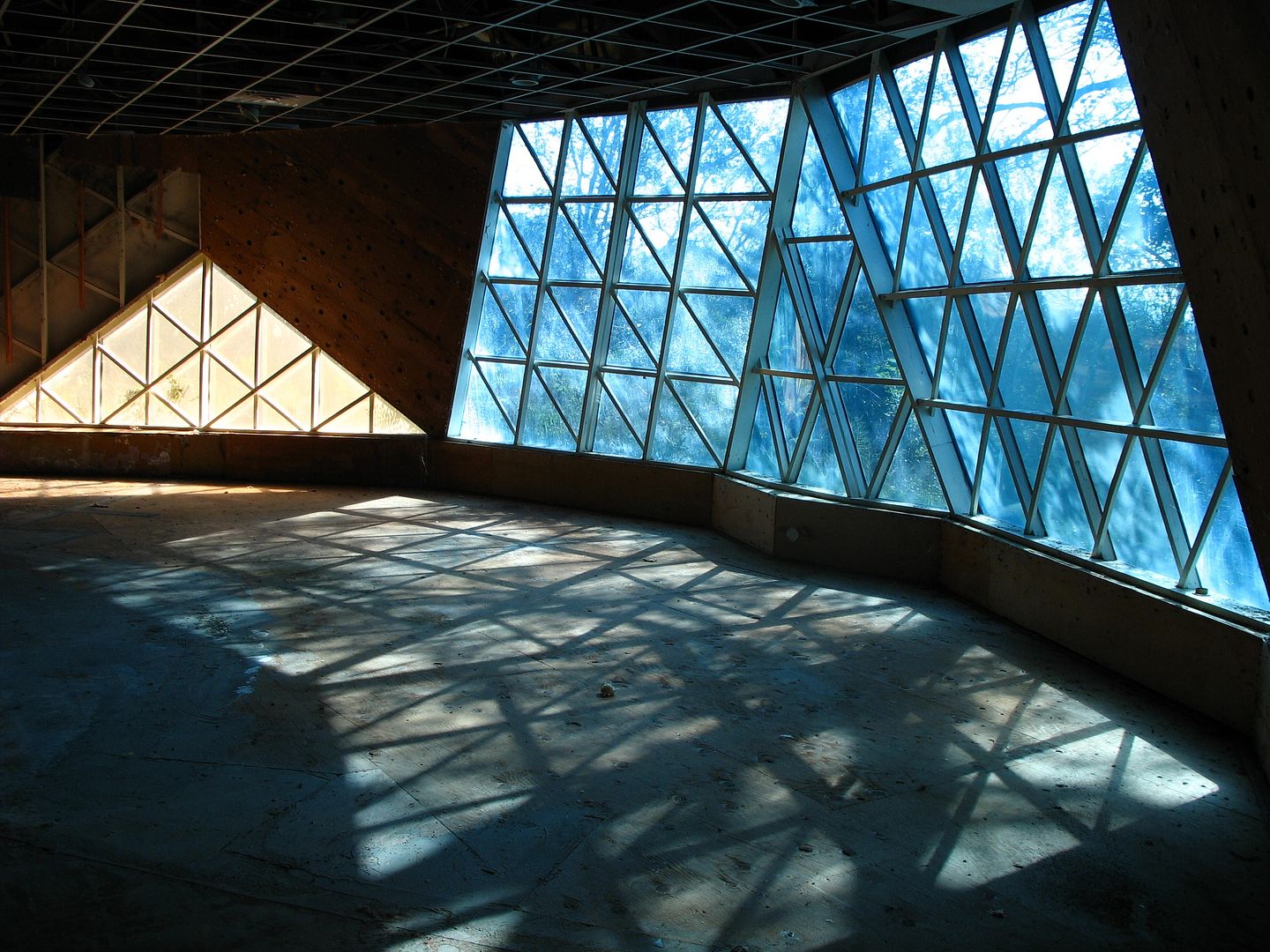 (Credit:  JP Davidson)
Katie started asking around about the Dome.  She found it was built by the late Buckminster Fuller, who called himself a "comprehensive anticipatory design scientist," out to solve the problems confronting "Spaceship Earth" by changing the way we make buildings.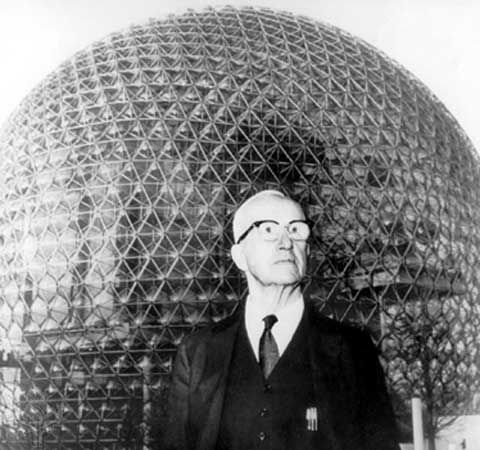 (Courtesy of the Fuller Institute)
"Bucky" Fuller invented and patented the geodesic dome, a spherical structure made from small triangles.  The design is based on a lot of complicated math, but the idea is that by relying on the strength of of the triangle, these buildings could be made from cheaper materials, like plastic and aluminum instead of steel and concrete.

In 1953, Fuller was commissioned to build a dome in Woods Hole by architect (and aspiring restauranteur) Gunnar Peterson.  The dome would become the posh Dome Restaurant.  Diners could gaze through the building's triangular windows out on onto the sea.  A zither player named Ruth Welcome entertained guests.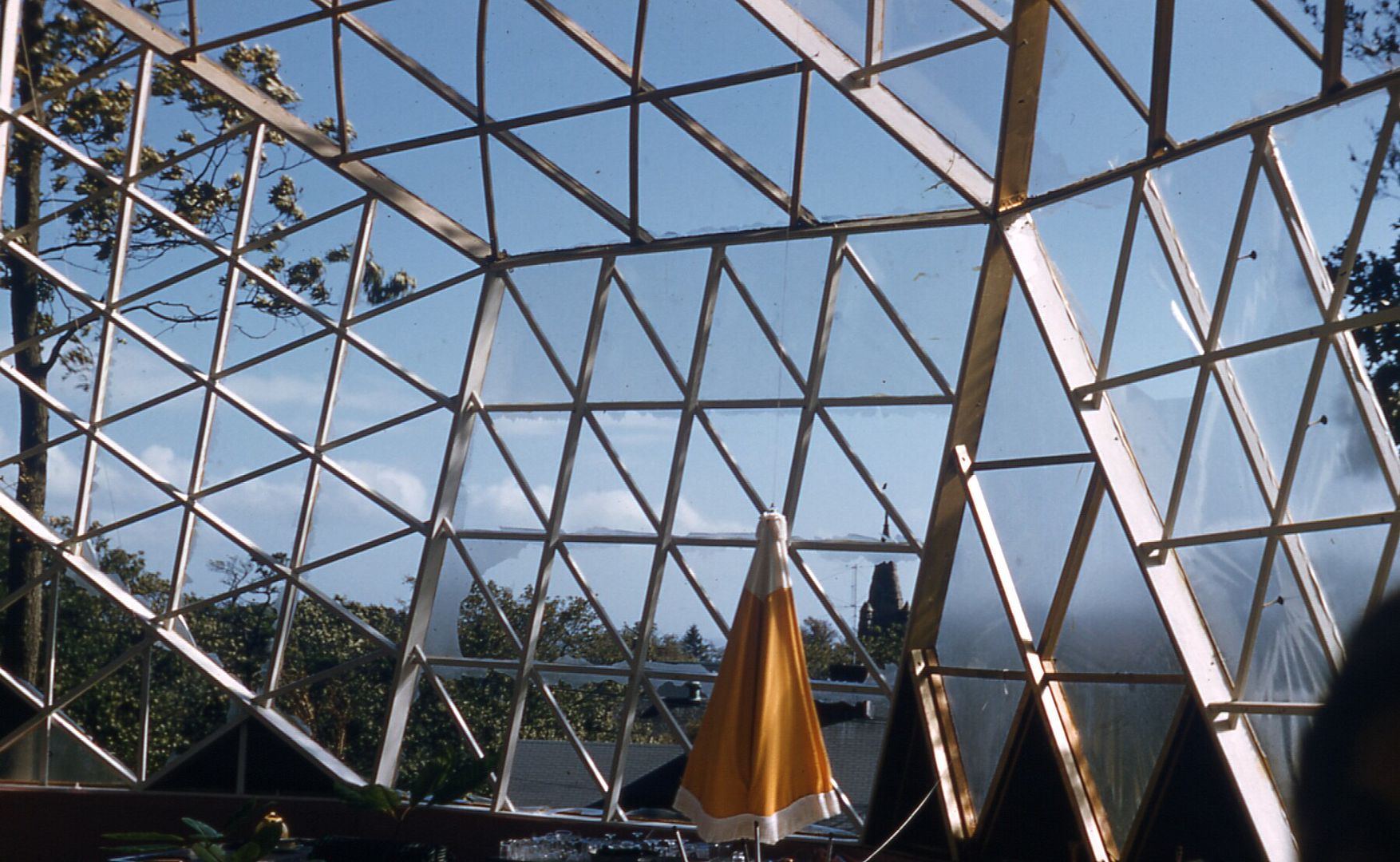 (Courtesy of Woods Hole Historical Museum)
Despite its Utopian aspirations, the building had some structural problems.  The glass windows heated the restaurant up like a greenhouse, so the owner installed fiberglass over most of the dome, blocking the ocean views.  It leaked constantly, and was difficult to maintain.  The dome was also hit pretty hard by 1970's interior decorating.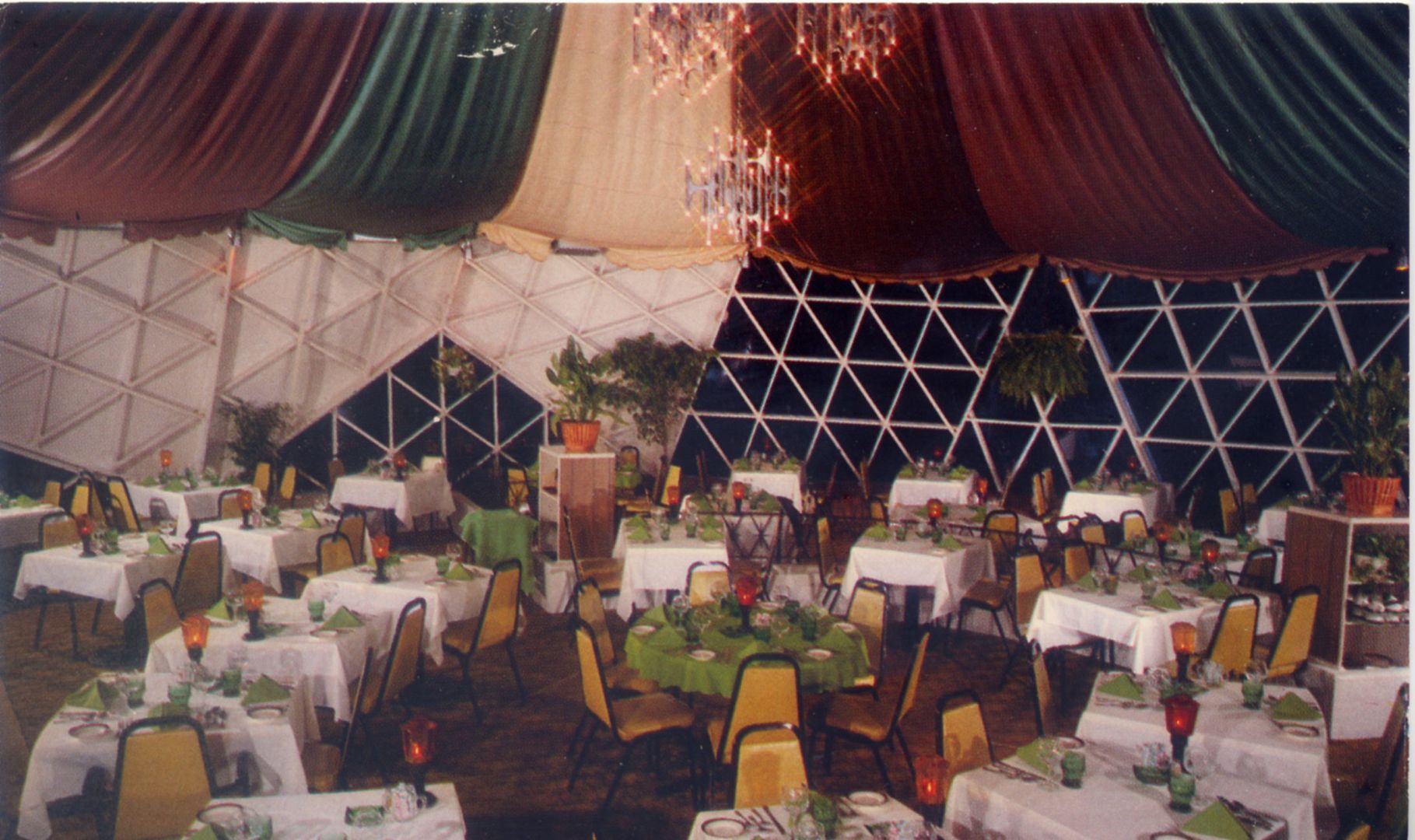 (Courtesy of Woods Hole Historical Museum)
Even though the Woods Hole dome did not radically change the world, Bucky Fuller would go on to become one of the most influential thinkers in design and architecture of the 20th Century.  A painting of Fuller by Boris Atzybasheff appeared on the cover of Time Magazine in 1964, and then again as a US Postage stamp in 2004.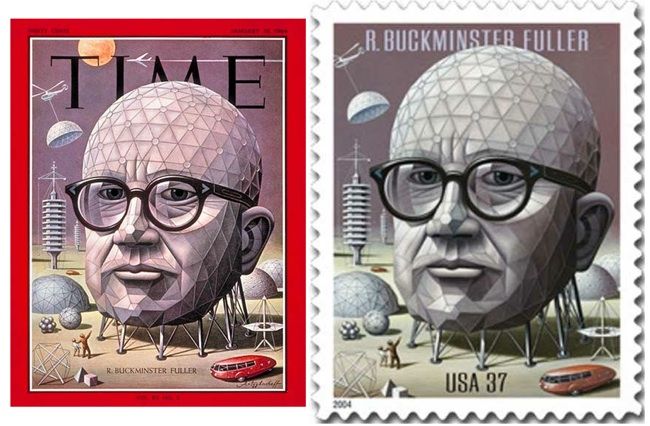 Today, the Dome Restaurant lies vacant.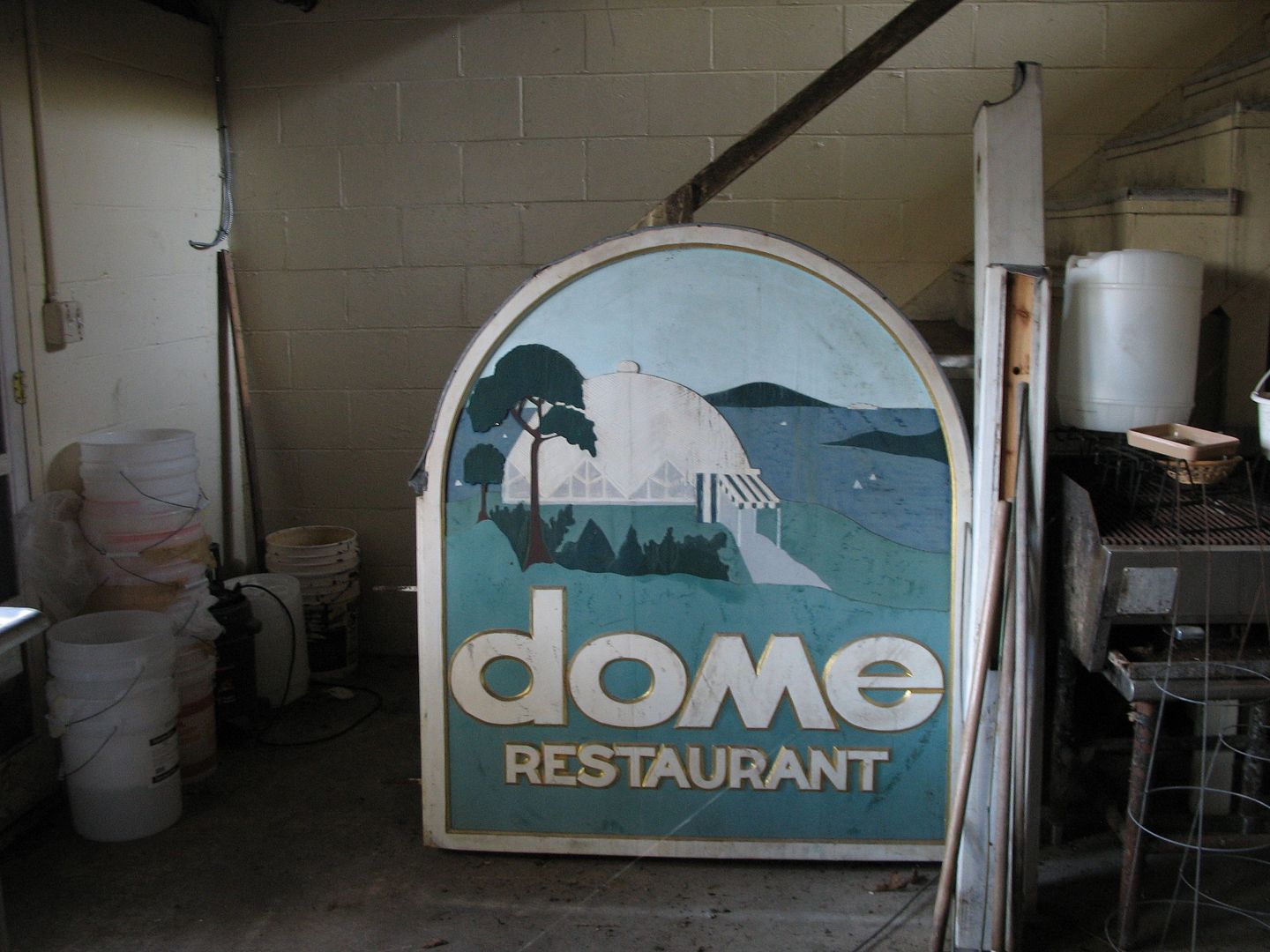 (Credit:  JP Davidson)
A new development project could lead to the dome's restoration, but for now, it remains a decaying curiosity, inviting exploration from microphone-wielding out-of-towners.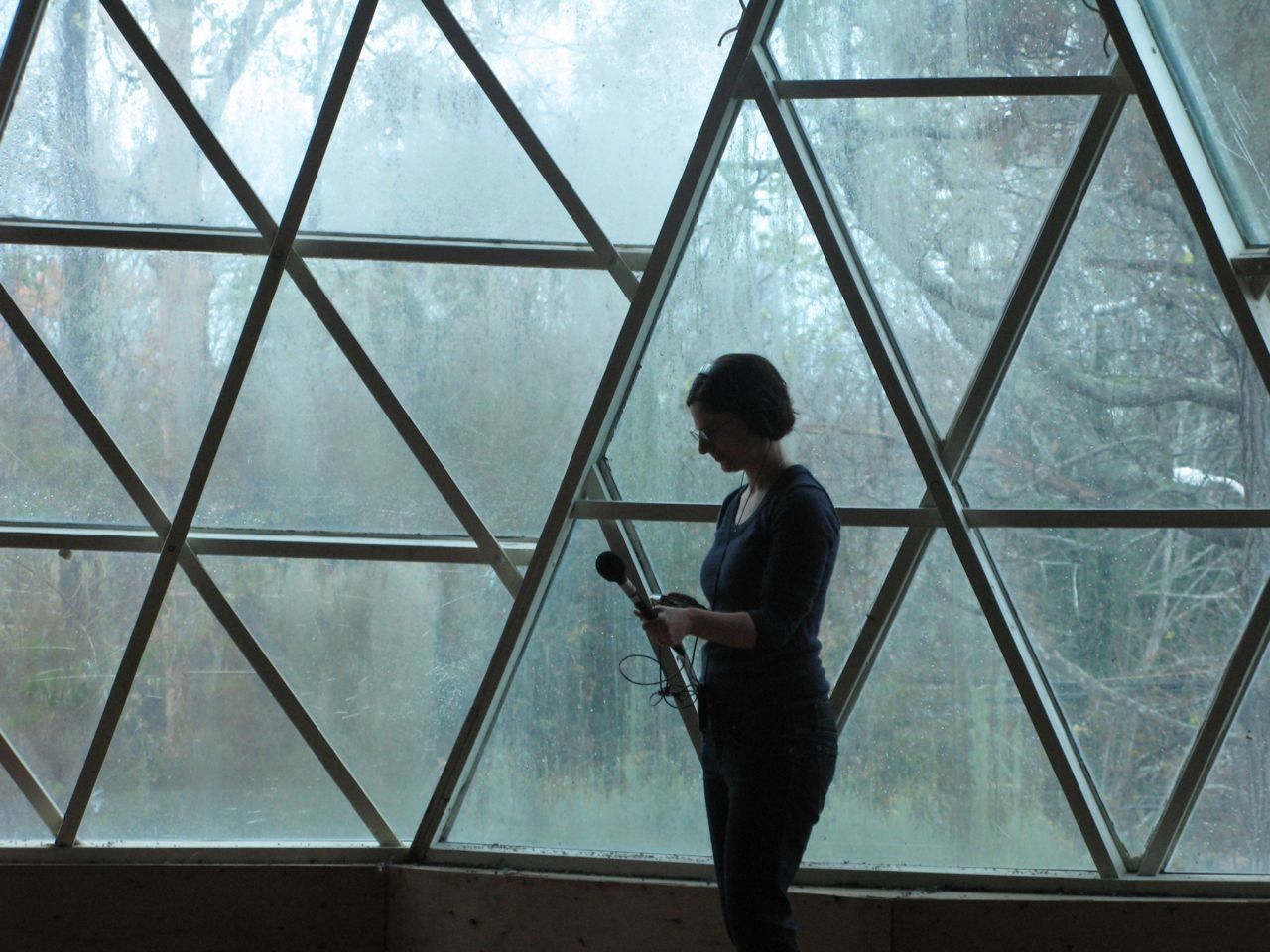 (Credit:  Will Coley)
Katie Klocksin is an independent radio producer based in Chicago.  She made a different version of this piece at the Transom Story Workshop, which ran on  the PRX podcast HowSound. Thanks to Rob Rosenthal (who runs both the Transom Story Workshop and HowSound) for pointing us to Katie's story.

For more on Bucky and his domes, find out if The Love Song of R. Buckminster Fuller is playing anywhere near you.  It's a live documentary (my new favorite media format) from Sam Green, whom listeners may remember from Episode #16 about Esperanto.
Episode 63- The Political Stage
On this special edition of 99% Invisible, we joined forces with Andrea Seabrook of DecodeDC to investigate all the thought that goes into the most miniscule details of a political campaign. Andrea was the star of episode #48 of 99% Invisible, The Bathtubs or the Boiler Room.

Andrea reveals seven (and a half) secrets about the staging of events along the campaign trail.  Like how every campaign has an "Advance Team" that flies in ahead of a candidate and makes everything from a campaign rally to a 20-minute media appearance run smoothly.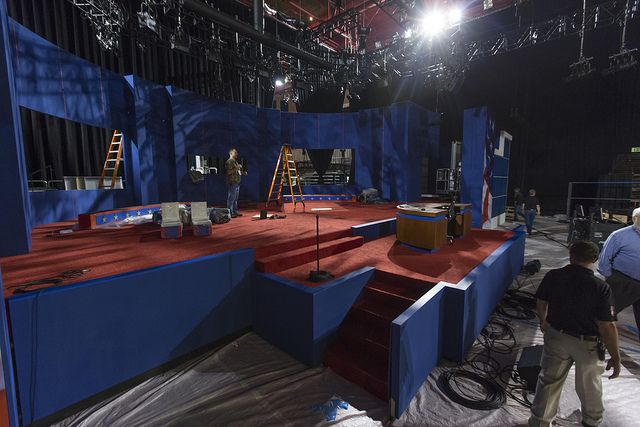 Andrea spoke with Advance guys Jon Seaton and Donnie Fowler, who have been directing this very American brand of political theatre for years. 

And like any theatre, one simple misdirection can go really, really badly.  Like when Romney gave his economics talk in 2011 to an empty stadium in Detroit…
…or when Sarah Palin held a press conference in front of a turkey slaughter (viewer discretion advised!).
Stories about the real-life impact of American politics is what DecodeDC is all about. Andrea Seabrook created the show after spending more than a decade covering politics for NPR. You can find out more about why she went rogue here, here, and here.
Andrea is raising seed money for DecodeDC with a Kickstarter campaign, ongoing through October 18.
OK Ikumi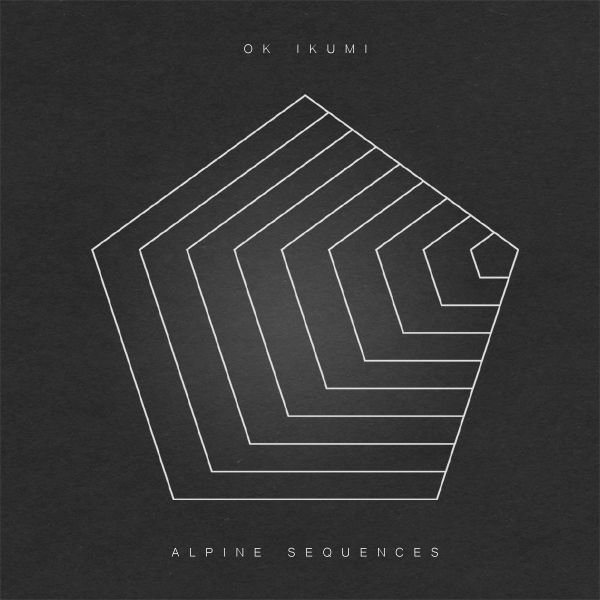 Kris, a longtime listener (way back from the Invisible Ink days), tipped me off to his brother's band OK Ikumi and the songs are just spectacular. I used a couple tracks already in the Q2 episode (check the timed comments to find the start times). The man behind OK Ikumi, Karl, has his own Utah based record label Hel Audio. He is offering the whole album called Alpine Sequences on bandcamp for $5 and for an additional $2.50 he'll send you a cassette! If you drive a 12 year old car like me, a cassette is the perfect medium.
Seriously, go buy it.