Episode 32- Design for Airports
(Press Play Above)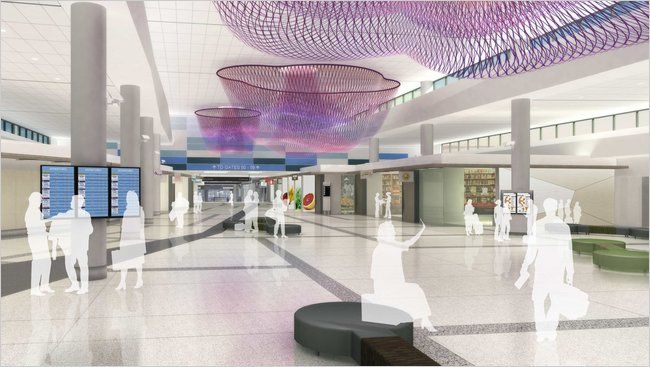 T2 at SFO (photo by Gensler)
"It can hardly be a coincidence that no language on earth has ever produced the expression 'As pretty as an airport.' Airports are ugly. Some are very ugly. Some attain a degree of ugliness that can only be the result of a special effort. This ugliness arises because airports are full of people who are tired, cross, and have just discovered that their luggage has landed in Murmansk (Murmansk airport is the only exception of this otherwise infallible rule), and architects have on the whole tried to reflect this in their designs."

-Douglas Adams, The Long Dark Tea-Time of the Soul
When I spoke with Allison Arieff about the design of airports, she said to me, if all airports simply played Brian Eno's album Ambient 1: Music for Airports over the speakers, every airport would be better. I say this to serve not only as an introduction to Allison Arieff, but also so you'll know that she is someone whose judgment is perfectly true.
Using T2 at SFO as an example, Allison Arieff of the New York Times talks us through some of the considerations that go into designing an airport terminal, how the priorities have changed since 9/11, and how architects struggle to keep pace with ever-changing technology.
Allison Arieff writes and consults about architecture, design, sustainability and food. She is the former editor in chief of Dwell magazine, co-author of the books "Prefab" and "Trailer Travel," and the editor of numerous books on design and culture, including "Airstream: The History of the Land Yacht" and "Cheap Hotels."

My friend Francesca Panetta voiced the Douglas Adams quote in this story. She created The Hackney Podcast, a multiple award winning audio exploration of the London borough of Hackney. The program is beautifully crafted, immersive, and inventive. I love it.
*Special thanks to all the Brits who sent in readings for me. I really appreciate you making the effort and they were all great. My intention was to splice a bunch together, but I just couldn't make it sound right, so I went with the lone female voice. I also thought I could use the opportunity to introduce a few of you to The Hackney Podcast, which will make your life better.