99% Invisible
May 08
Episode 79- Symphony of Sirens, Revisited
Sirens, for the ancient Greeks, were mythical creatures who sang out to passing sailors from rocks in the sea. Their music was so beautiful, it was said, that the sailors were powerless against it—they would turn their ships towards these sea nymphs and crash in the impassable reefs around them.
There's moment in Homer's Odyssey where Odysseus and his men are traveling near an area that Sirens are known to inhabit. Odysseus knows that if he hears the siren's song, his ship is going to sink. But he still wants to hear what they sound like. So he comes up with a plan: Odysseus has his men tie him to the mast of his ship so that he can't give commands. And then Odysseus has his men fill their own ears with beeswax so they can't hear anything. They set sail in striking distance of the sirens' call.
The plan works: Odysseus gets to hear the music, his men don't, and they sail on to safety—with Odysseus pleading with his crew to crash the boat the whole way.
And for the next 2000 or so years, that's what a siren was: a creature that makes a beautiful sound.
And this new, mechanical siren became one of the signature sounds of the turn of the Century. Sirens announced the beginning and end of the workday at factories. Sirens warned people about immanent bombing raids during World War I.  Sirens announced incoming fire engines, and ambulances, and police. 
Thanks in part to the siren, the world of the the early 20th Century had become a lot louder than any time in human history. And we can probably assume that the sirens that people heard in cities all over the world sounded nothing like the Siren songs of Greek myth.
At least to most. One man, a composer, named Arseny Avraamov heard music in the cacophony of the modern world.
(Arseeny Avraamov (photographer unknown). Courtesy of Andrey Smirnov.) 
In November of 1923, Avraamov stepped onto a Moscow rooftop clutching two oversized flags.  The flags were his conductor's wand—for his plan was to conduct an orchestra comprised of the city itself. 
(Avraamov conducting the Symphony of Sirens (photographer unknown). Courtesy of Andrey Smirnov)
Avraamov called his composition The Symphony of Sirens.
As it happened, the Moscow debut of the Symphony of Sirens coincided with a military parade, a celebration of the Soviet Union's sixth birthday. Most people didn't even know that they were witnessing—and creating—a work of music. 
Apr 29
Episode 78- No Armed Bandit
Americans now spend more money on slot machines than movies, baseball, and theme parks combined.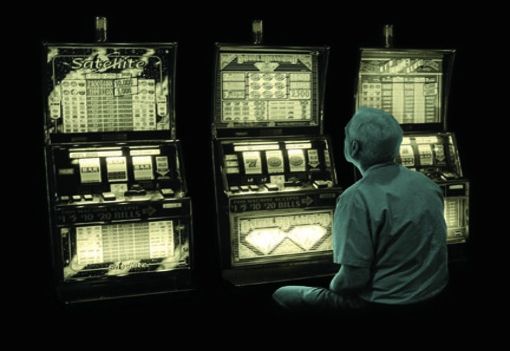 Americans have always had an uneasy relationship with gambling. To circumvent anti-gambling laws in the US, early slot machines masqueraded as vending machines. They gave out chewing gum as prizes, and those prizes could be redeemed for cash.  
Despite outward appearances, slot machines have evolved dramatically since they first appeared in 1895.
To play the first slot machines, you slipped in a coin and pulled the lever to set the machine's wheels in motion. The slot machine's crank-action operation (and the way it took your money) earned it the nickname of the "one-armed bandit." 
But today, those hand-crank levers are uncommon, and where they do exist they are known as "legacy levers," because they have zero relation to how the machine actually works. Everything inside a slot machine has been computerized and automated—from how you enter money, to how you bet, to how you play, to how you win and lose, and even to how you feel when leave.
At first, gambling machines existed at the fringes of casino culture—both figuratively and literally. The real money was in tabletop games—or so it was thought—and the slots were set up around the edges of the casino to give gamblers' wives something to do while they waited.
But then video technology expanded what slots could do. Now a machine could have more rows and columns than the standard three-by-three, and allowed you to place multiple bets on a single spin. A penny slot machine could let you place a hundred different one-cent bets per spin—so even if you win 40 cents on one line, and the machine congratulates you with flashing lights and chimes, you still lose 60 cents. 
At the same time, a shift happened in how some people gamble (or maybe in experts' understanding of how people had always gambled). People don't just play to win—people play to win to play. Gamblers don't just want to win money, but rather to extend play for as long as possible. 
And there's a specific type of uninterrupted play that gamblers want to extend. Slot players call this being in "the zone."
"The zone" is a sort of trance-state that players experience while they're playing. One's sense of time, space, body, and sense of self can disappear. 
So there's an imperative to design against interruption. Which is why machines lost their levers. It's why some players will create ways to signal to cocktail waitresses that they don't want to be bothered. It's why so many people play a game where the odds of winning are completely unknown.
Apr 15
Episode 77- Game Changer
Regardless of how you feel about basketball, you've got to appreciate the way it can bring groups of strangers together to share moments of pure adulation and collective defeat. 
Case in point: the buzzer beater:
You know this moment: time is running out, the team is down by one, a player arcs the ball from downtown just as the buzzer sounds—and sinks it.  it's exhilarating. It's heart breaking. And most of all, it's good design. But it's not the way basketball was originally designed.  
The invention of basketball is credited to James Naismith, a phys ed instructor who had the idea to mount peach baskets to a the walls of a Springfield, Massachusetts gymnasium, and have his students attempt to throw a leather ball through them.  
Apr 03
Episode 76- The Modern Moloch
On the streets of early 20th Century America, nothing moved faster than 10 miles per hour. Responsible parents would tell their children, "Go outside, and play in the streets. All day."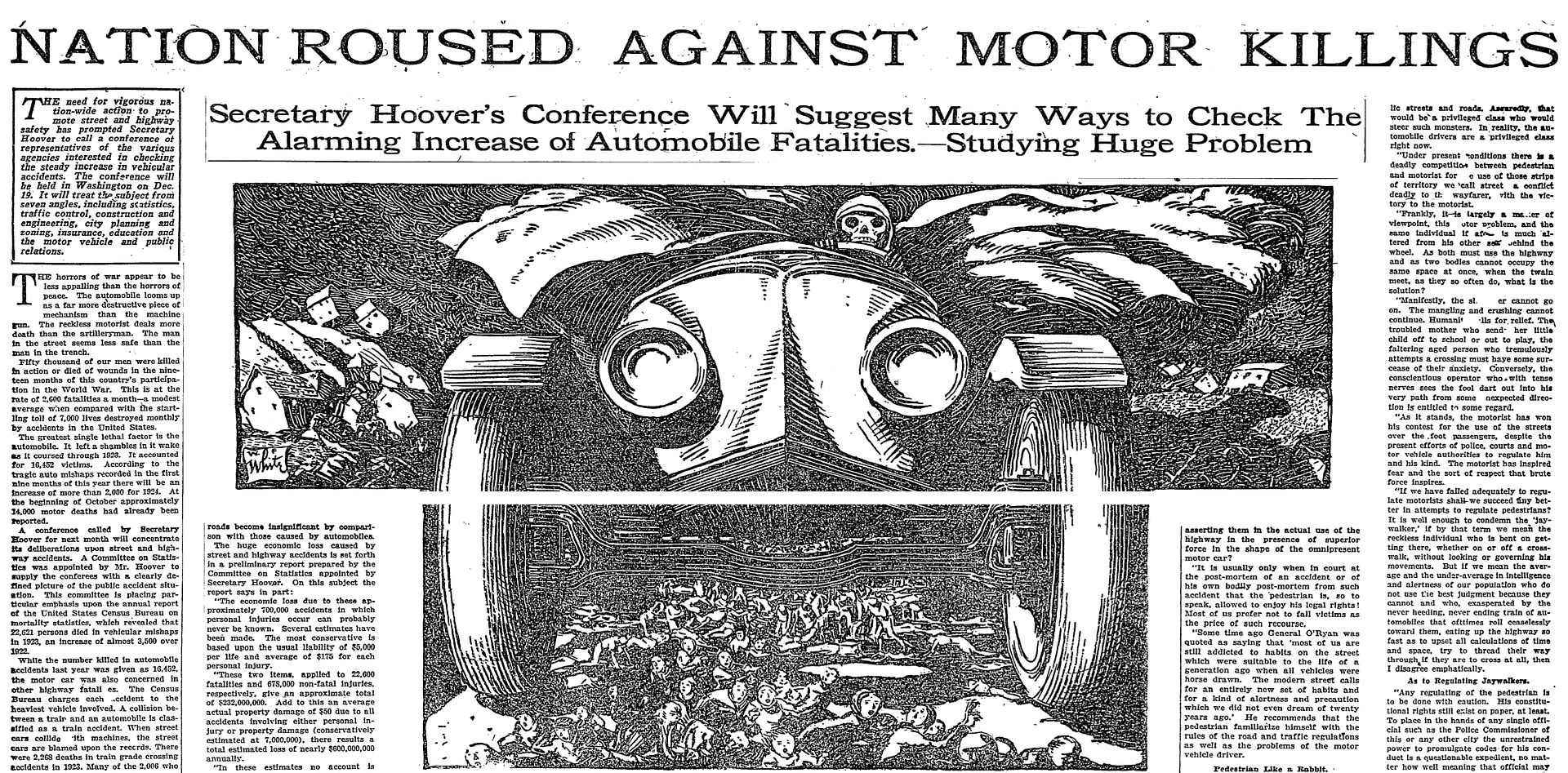 (Credit: New York Times, Nov 23, 1924)
Much of the public viewed the car as a death machine. One newspaper cartoon even compared the car to Moloch, the god to whom the Ammonites supposedly sacrificed their children.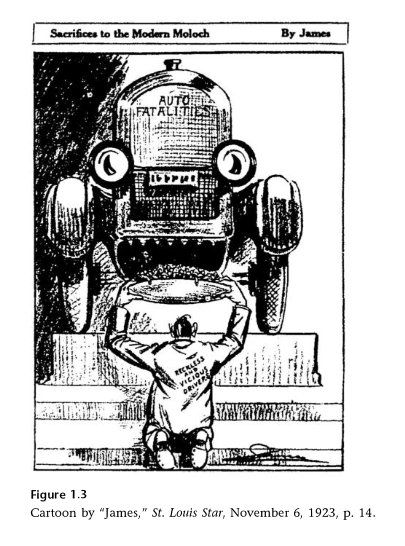 Pedestrian deaths were considered public tragedies. Cities held parades and built monuments in memory of children who had been struck and killed by cars. Mothers of children killed in the streets were given a special white star to honor their loss.
(Courtesy of Peter Norton)
The main cause for these deaths was that the rules of the street were vastly different than how they are today. A street functioned like a city park, or a pedestrian mall, where you could move in any direction without really thinking about it. The only moving hazards were animals and other people.  
Turn-of-the-century footage from San Francisco's Market Street shows just how casually people strode into the street.
If a car hit someone, the car was to blame. From the New York Times, November 23, 1924:
The horrors of peace appear to be appalling than the horrors of war. The automobile looms up as a far more destructive piece of mechanism than the machine gun. The reckless motorist deals more death the artilleryman. The man in streets seems less safe than the man in the trench. The greatest single lethal factor is the automobile. It left shambles in its wake as it coursed through 1923.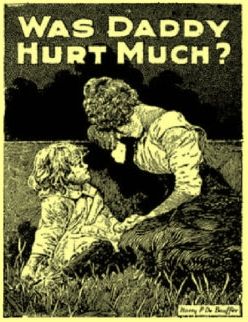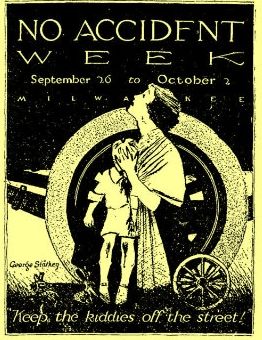 (From left: poster by Harry de Bauffer, reproduced in "Poster Wins Second Prize," Milwaukee Journal, September 28, 1920; poster by George Starkey, reproduced in "Winning Safety Poster," Milwaukee Journal, September 25, 1920.)
Mar 20
Episode 75- Secret Staircases
Wherever there is sufficient demand to move between two points of differing elevation, there are stairs. In some hilly neighborhoods of California—if you know where to look—you'll find public, outdoor staircases.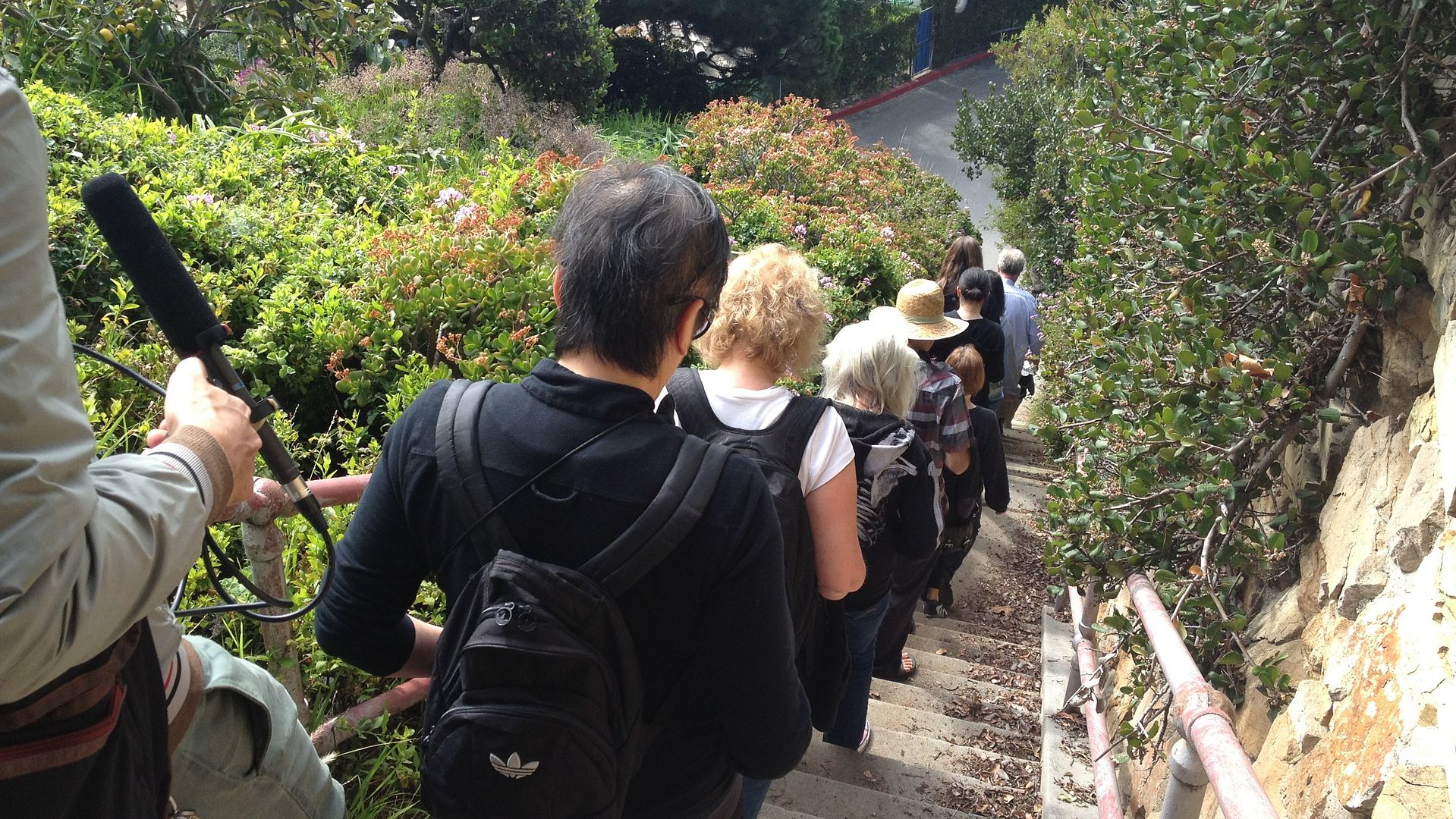 (Credit: Alana Goldstein)
The large number of often hidden, public staircases is part of what makes California so great.  San Francisco's tourist-crushing Filbert Steps to Coit Tower are not to be handled lightly. The Monument Way staircase just off the corner of 17th and Clayton leads the intrepid walker to what used to be Sutro's Triumph of Light and Liberty statute. There's just something about a secret staircase that beckons you to go out of your way to use it.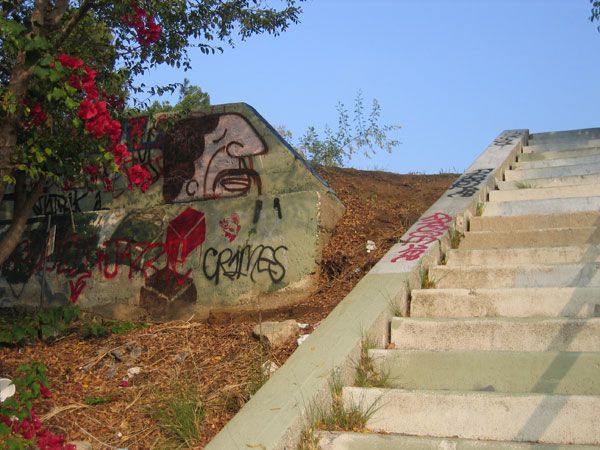 (Credit: Charles Fleming)
Producer Sam Greenspan met with Charles in the Pacific Palisades, where people from all over Los Angeles had gathered to attend one of Charles' monthly stair walks.
Charles's fascination with public stairs began with a basic need to walk. "I was trying to walk my way out of a surgery," he says. "I had had two hip replacements and two spinal surgeries in the space of about 6 years, and I was up for a third spinal surgery. I simply couldn't face it…so I told the surgeon I'm not coming, because I had found that a little bit of walking relieved the pain I was in."  
Charles started walking flat streets, the moved to hilly streets, and eventually graduated to the stairs. He looked for a city inventory of all the staircases, but couldn't find one. So he started making his own.
Mar 07
Episode 74- Hand Painted Signs
There was a time when every street sign, every billboard, and every window display was painted by hand. This sounds unremarkable until you actually think about what that actually means.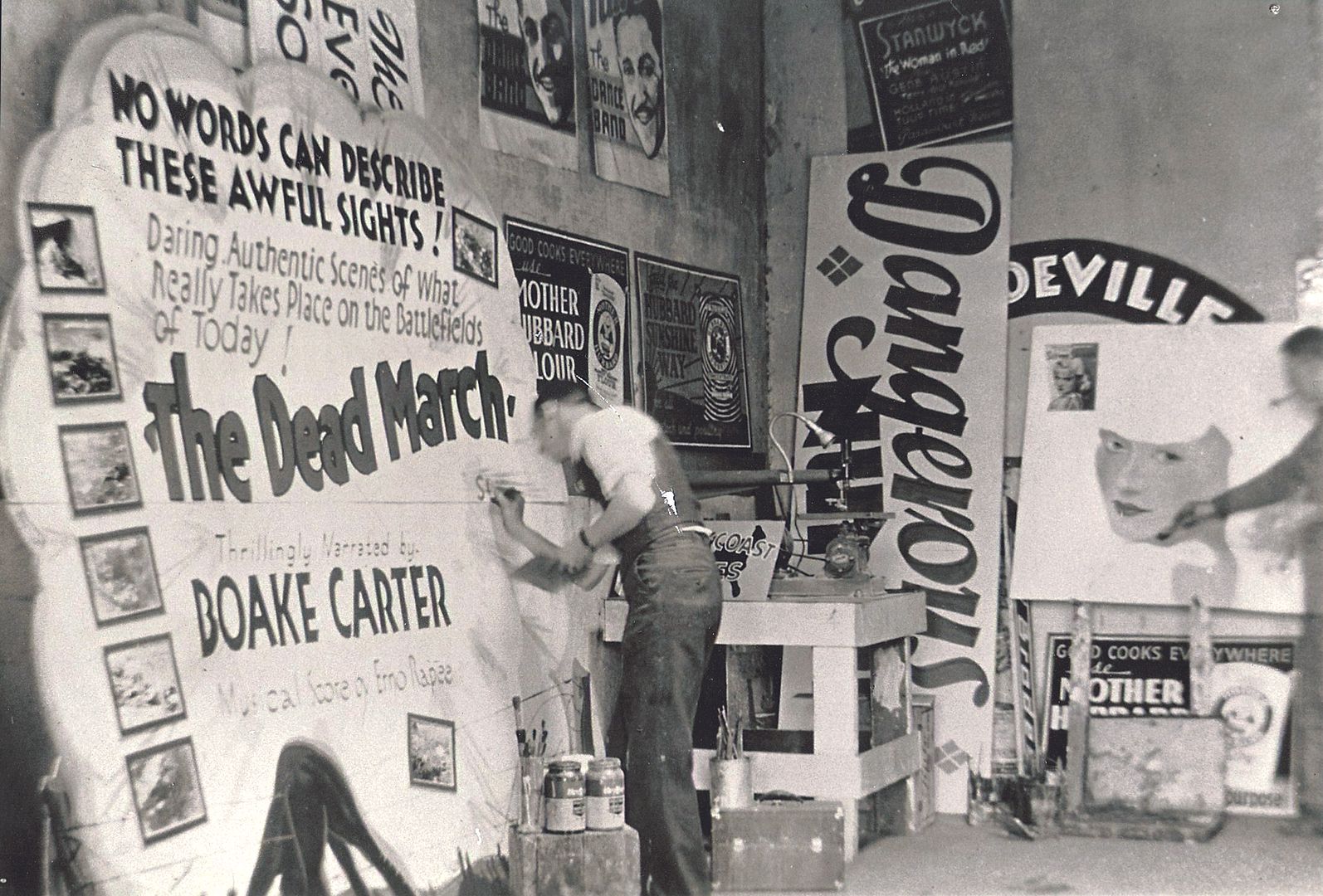 (Sign painter Chancey Curtis in Mankato, MN, ca. 1930. Courtesy of Sign Painters and Princeton Architectural Press.)
Every single sign in existence was made by a sign artist with a paint kit and an arsenal of squirrel- or camel-hair brushes.  Some lived an itinerant lifestyle, traveling from town to town, knocking on the doors of local shops, asking if they could paint their signs.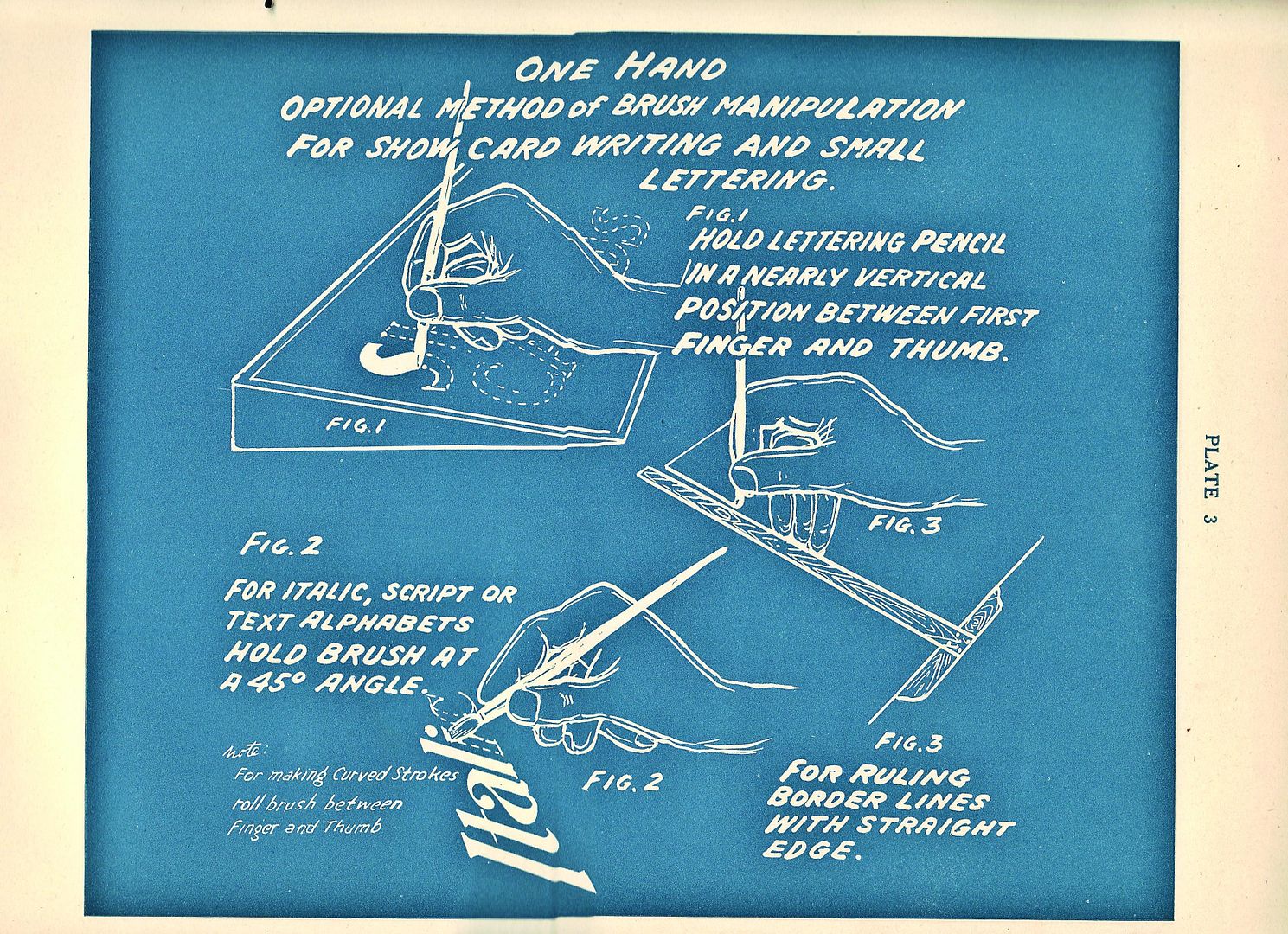 (From Wagner's Blue Print Text Book of Sign and Show Card Lettering.
Courtesy of Sign Painters and Princeton Architectural Press.)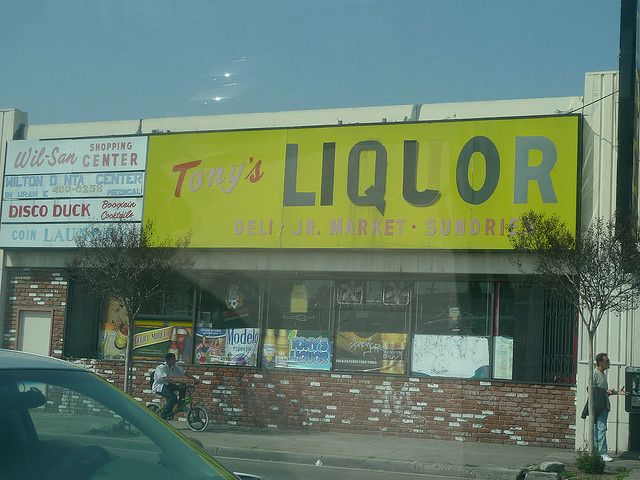 (Credit: Gelatobaby)
Hand painted signs began to disappear. But not completely.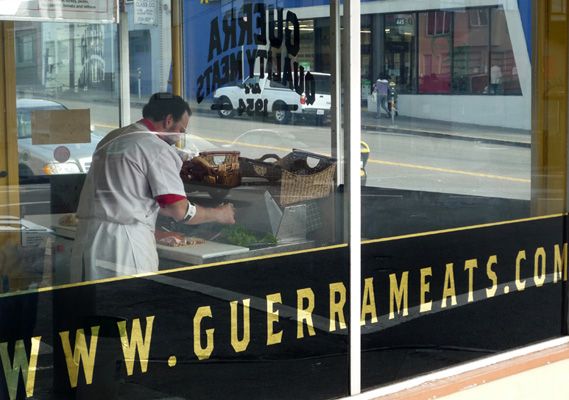 (Credit: New Bohemia Signs)
Our contributor Benjamen Walker spoke with Faythe Levine and Sam Macon about their new book and documentary project, Sign Painters, which profiles more than two dozen contemporary sign painters keeping the tradition alive.  
(Ken Davis and Caitlyn Galloway of New Bohemia Signs. Courtesy of Sign Painters and Princeton Architectural Press.)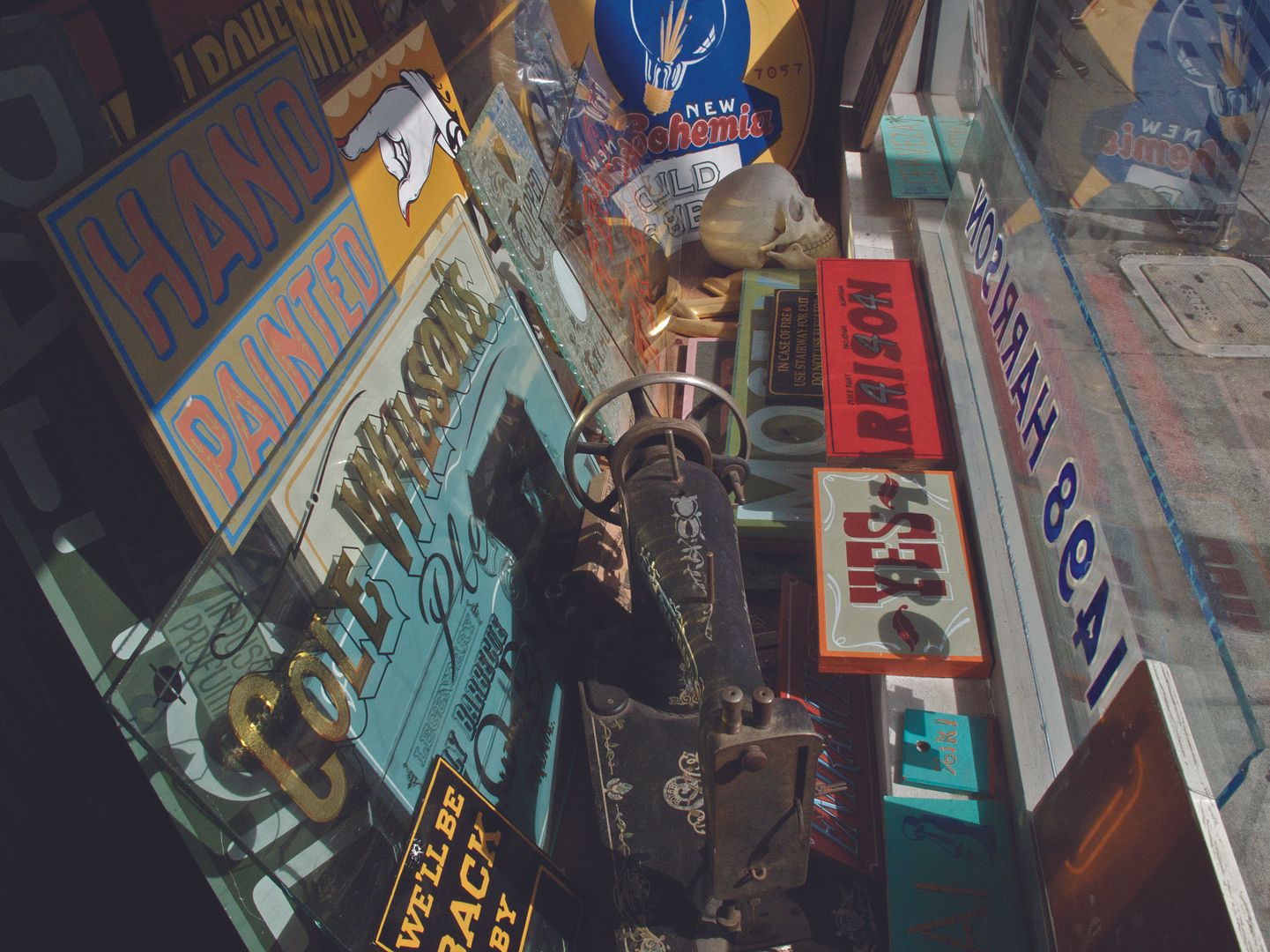 (A collection of work from New Bohemia Signs. Courtesy of Sign Painters and Princeton Architectural Press.)
Benjamen also spoke with sign painter and cartoonist Justin Green, who draws the comic series Sign Game (among others).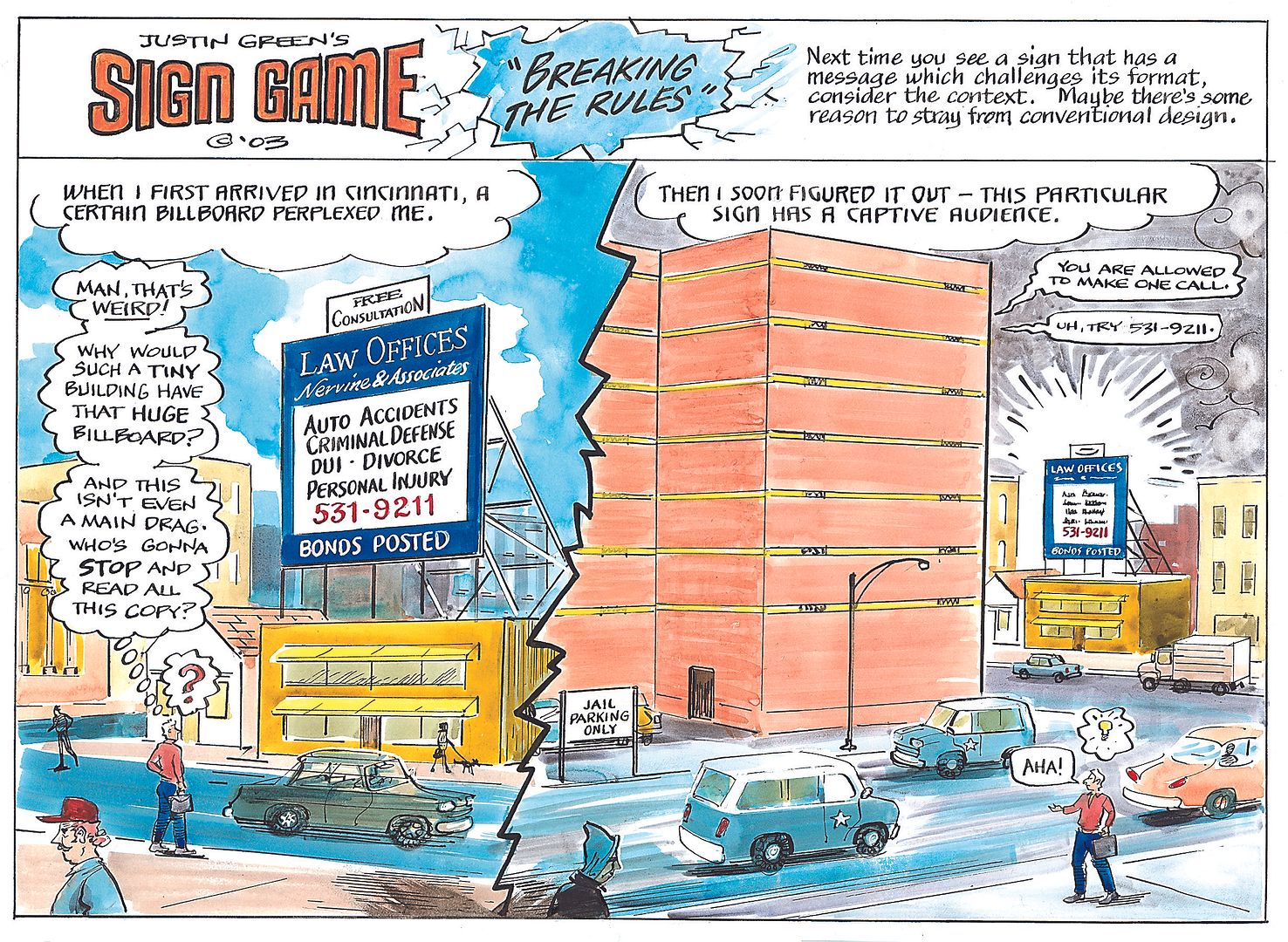 (Courtesy of Sign Painters and Princeton Architectural Press.)
Sam Greenspan also visited New Bohemia Signs in San Francisco to get their take on the sign painting scene. Damon Styer, the store's owner, was working on a "rickshaw obscura" for the San Francisco Exploratorium.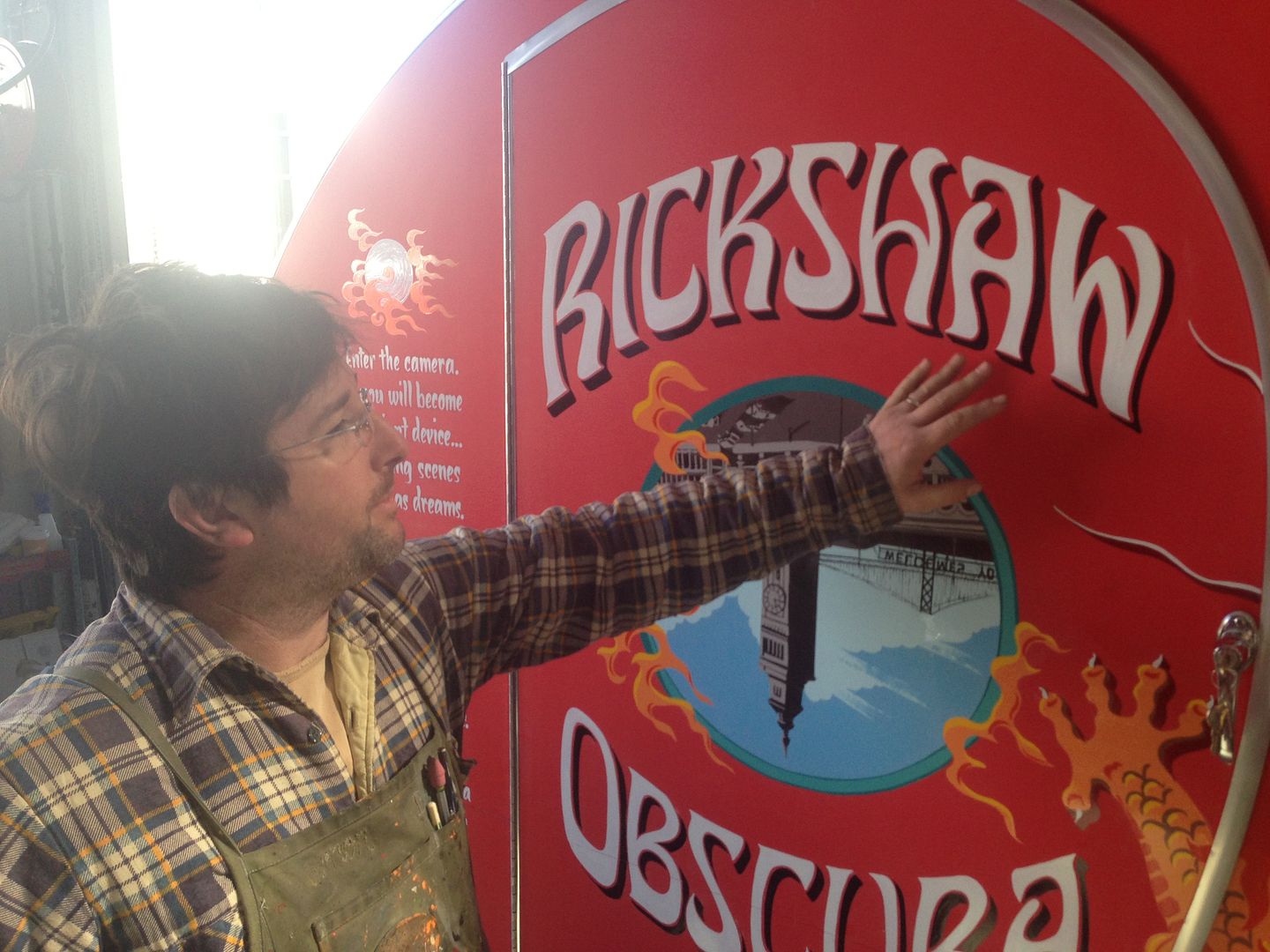 Sign Painters (the film) premiers in Washington, D.C. on March 30.
Feb 18
Episode 73- The Zanzibar and Other Building Poems
There comes a time in the life of a modern city where it begins to grow up—literally. Santiago, the capital of Chile, has been going through a tremendous growth spurt since its economic boom of the mid 1990s. It happened fast. In just a few years, single family homes all over the city gave way to high rises.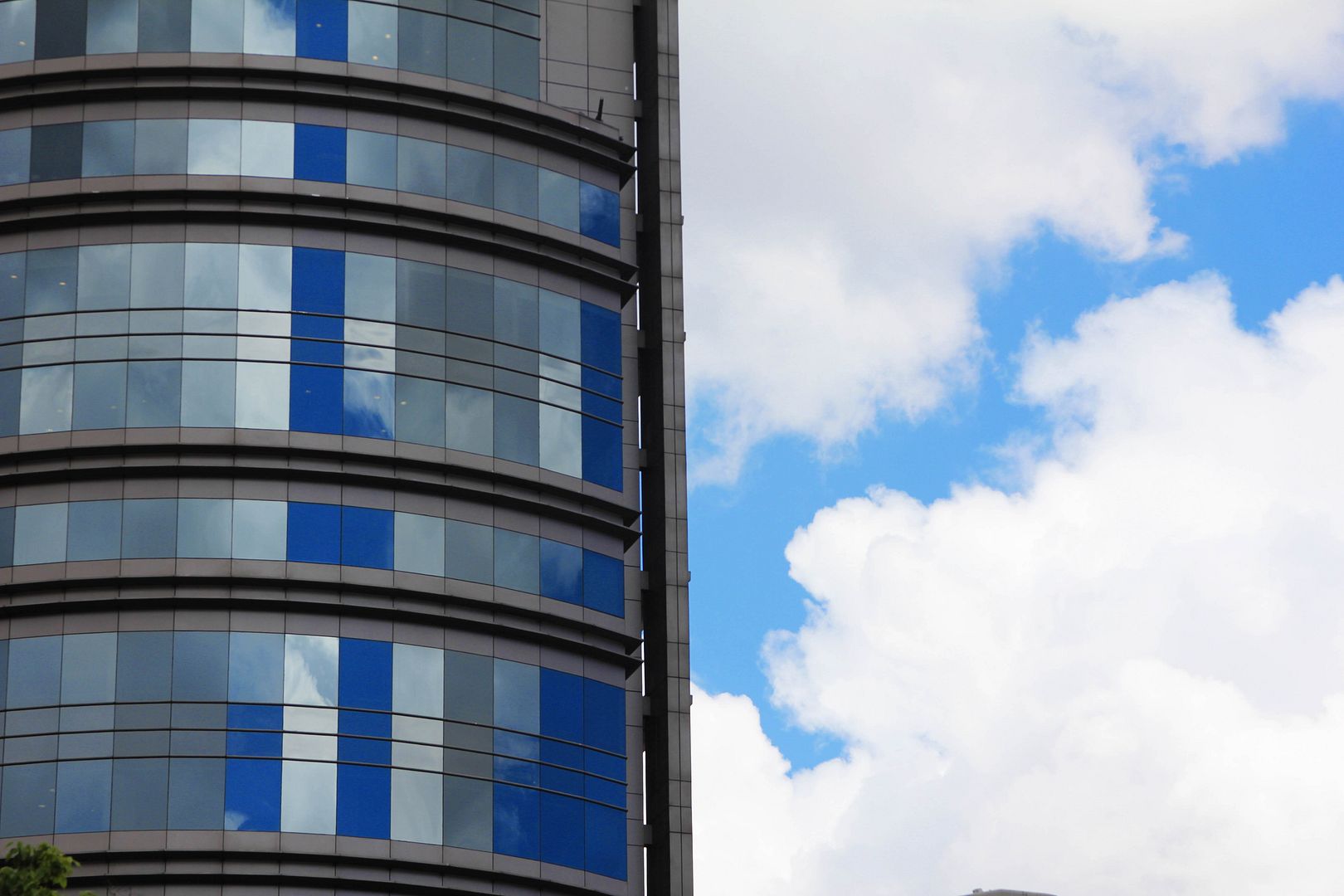 (Credit: Miguel Angel)
(Credit: Grego Lepoolpe)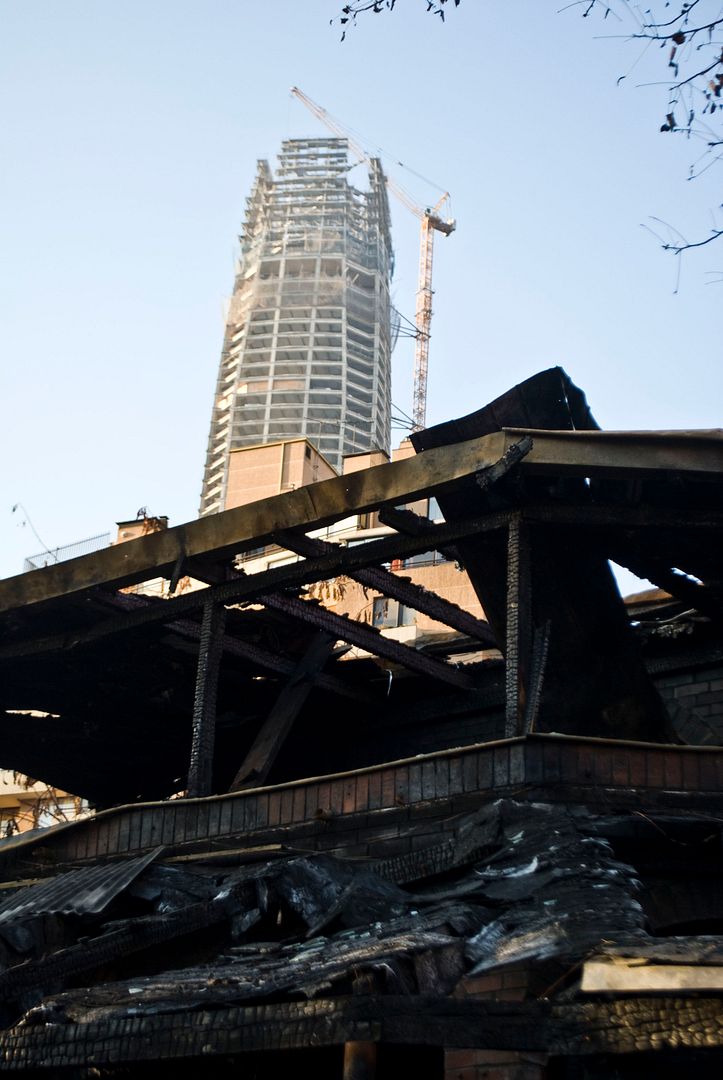 (Credit: Carla McKay)
Our reporter this week is Daniel Alarcón, host and executive producer of Radio Ambulante, a new podcast which has been called "This American Life en Español" (though some stories are in English).
Daniel is also the author of the award-winning novel Lost City Radio. His next book, At Night We Walk in Circles, will be out in the fall.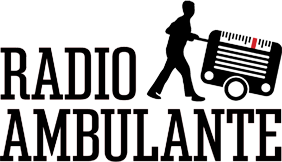 Feb 05
Episode 72- New Old Town
Like many cities in Central Europe, Warsaw is made up largely of grey, ugly, communist block-style architecture. Except for one part:  The Old Town.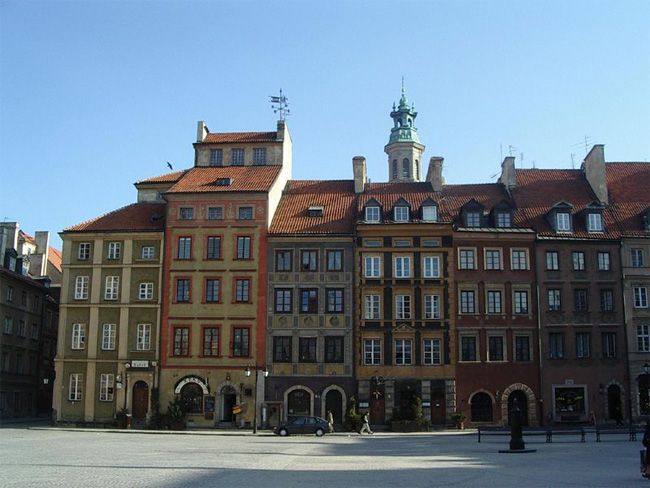 (Credit: Andy Wright)
Walking through the historic district, it's just like any other quaint European city. There are tourist shops, horse-drawn carriage rides, church spires. The buildings are beautiful—but they are not original.  
During World War II, German forces razed more than 80% of Warsaw.  After Soviet troops took over, much of the city was rebuilt in the with communist style: fast, cheap, and big. They built apartment blocks, wide avenues, and heavy grey buildings. It was communist ideology in architectural form.
But when it came to the historic district of Warsaw—the Old Town and a long connecting section called the Royal Route—they decided not just to rebuilt, but to restore. Builders would use the same stones, and use special kilns to make special bricks to preserve its authenticity. After six years of reconstruction, the new Old Town was opened. Poles were ecstatic to have it back. Even in the West, it was seen as a triumph of the human spirit. 
But here's the thing: Warsaw's historic Old Town is not a replica of the original. It's a re-imagining. An historic city that never really was. 
Look closely.

(From left: Warsaw's Old Town Square in 1913; in 1945; and in 2009)
Not long after the Old Town was rebuilt, people started to notice that it was a little bit off.  People wandered around and  feeling this uncanny disjuncture between the city that they remembered and the city in which they now found themselves.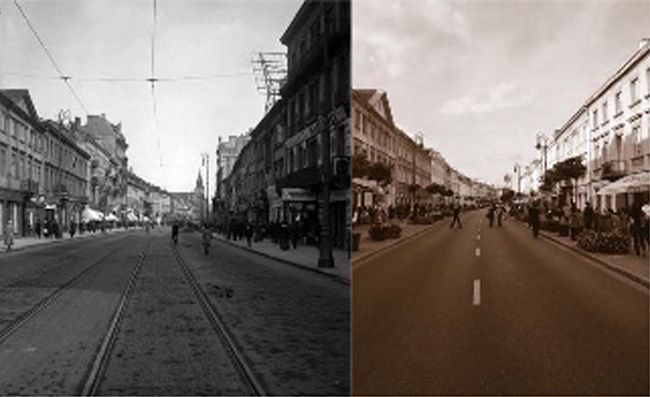 (From left: Nowy Swiat ("New World") Street, c. 1915-1918; in 2009)
Despite the push for authenticity, it turned out that the major inspiration for the rebuilding of the city were the paintings of an 18th Century Italian artist named Bernardo Bellotto.  Bellotto was a "vedutista," one who  specialized in the Venetian style of painting in which cityscapes are depicted realistically, with their details and documented precisely.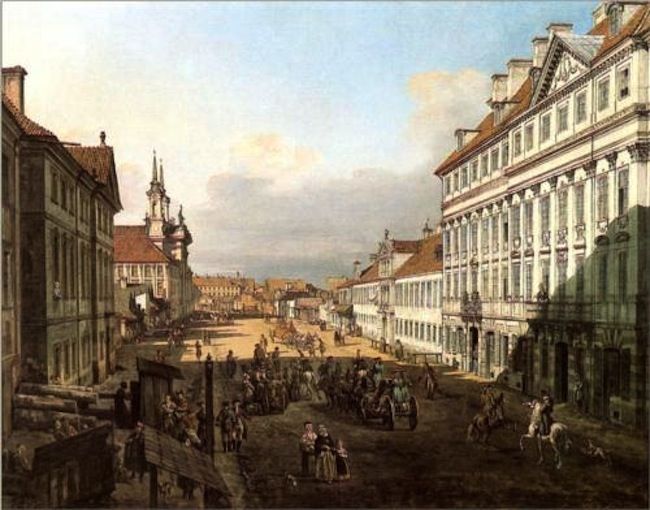 ("Dluga Street," Bernardo Bellotto, 1778.)
But Bellotto had a tendency to make "improvements" on the cities he painted, relying as much on his artistic license as what he actually observed.  The paintings from the 18th Century were never meant to match reality—they were supposed to be better than reality. 

(From left: John's House on Castle Square in the 1920s; John's House as depicted by Bellotto, c. 1768; John's House After the 1948 reconstruction.)
For the Soviets, this reconfiguration of the Old Town served two purposes.  FIrst, they wanted to send the message that the Old Town—and Warsaw as a whole—would be better than it was before the war.  Second, they didn't want Poles to long for this lost part of the city. By recreating Old Town, the past could stop being such a distraction, and they could get to work on a drastic overhaul of the country.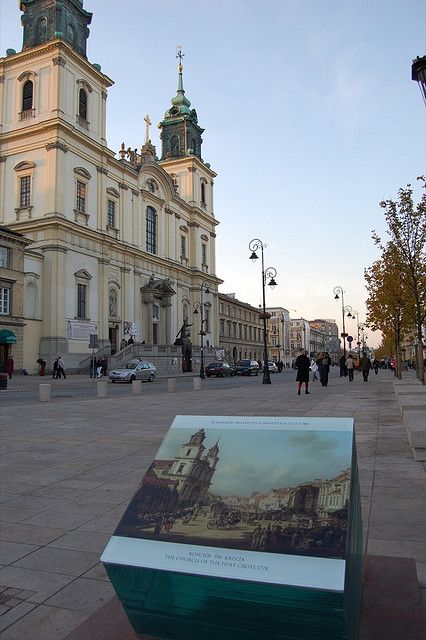 (Credit: Emily Heath)
Today, placards with Bellotto's paintings stand beside buildings, inviting passers-by to marvel at their likeness.
Our story this week was reported by Amy Drozdowska and Dave McGuire, who spoke with Warsaw-born anthropologist Michał Murawski about Warsaw's complicated history.  
NOTE:

This week's episode is sponsored in part by Sidewalk Radio with Gene Kansas, which covers the art, architecture, design and urban planning of Atlanta, GA and beyond.

Jan 29
Design Matters with Debbie Millman
Last year I appeared on Debbie Millman's Design Matters and now the episode is on Soundcloud for easy sharing. This is my mom's favorite interview with me. Design Matters has posted 141 past episodes for your listening pleasure!
Jan 23
Episode 71- In and Out of LOVE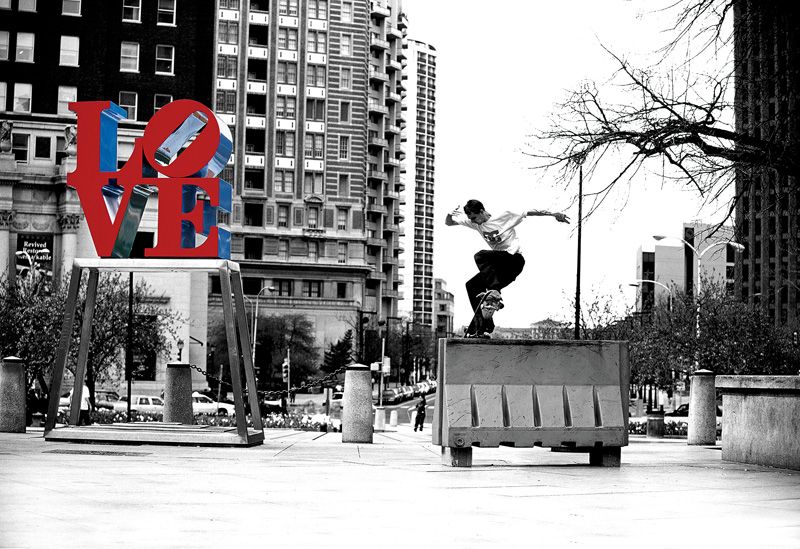 (Credit: Mike Blabac)
Though its official name is JFK Plaza, the open space near Philadelphia's City Hall is more commonly known as LOVE Park, after the Robert Indiana sculpture installed there.
Designed by Edmund Bacon and Vincent Kling, the park was fashioned in high modernism:  sleek, granite benches; geometric raised planter beds, and long expanses of pavement.  Its success as a pedestrian plaza is debatable.  
But it turned out to be perfect for skateboarding.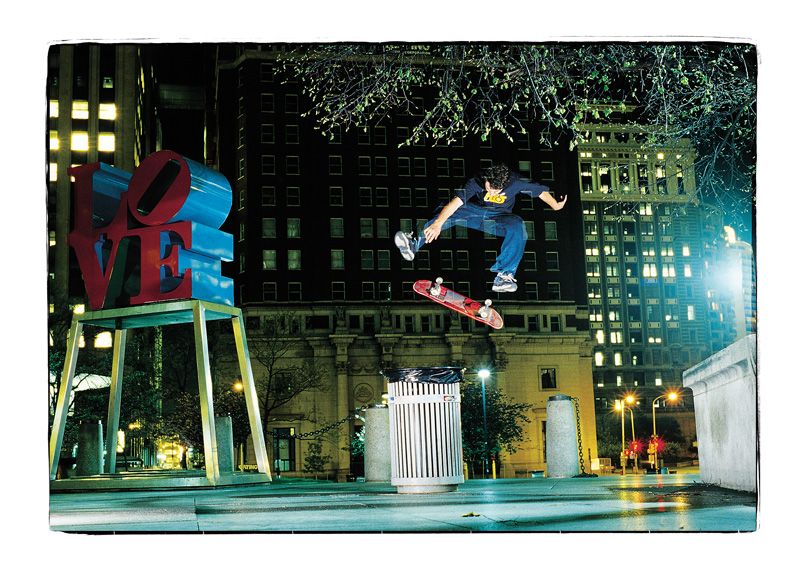 (Credit: Mike Blabac)
You could even make skateboard ramps by pulling up the concrete tiles.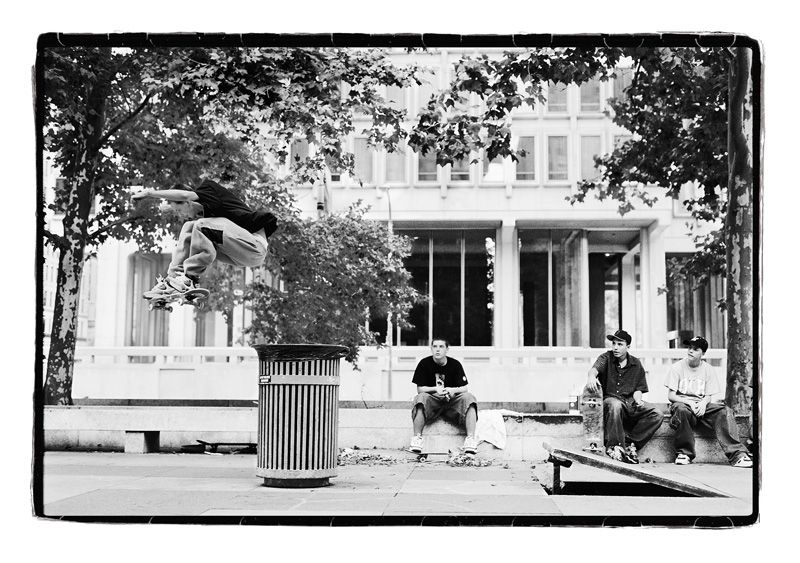 (Credit: Mike Blabac)
Skaters started filming themselves at LOVE Park in the early 1990s.  Once their videos found their way to California—the epicenter of the skating world—Philadelphia became a skating destination.  As the skateboarding industry grew, so did the popularity of LOVE Park. By the end of the decade, professional skaters moved to Philly just to skate in LOVE everyday.
LOVE Park may have become the Mecca of skateboarding, but skateboarding was never a legal activity there.  Police chased (and still chase) away skateboarders, and can issue fines or even confiscate boards.  And as the city gentrified, the grip on skating in LOVE Park tightened, and the city announced that the park would undergo a $1 million redesign to make the park unskateable.  DC Shoes, a skateboarding footwear company, offered to match the city's $1 million if they would keep the park as-is and use the money to repair the wear and tear done by the skaters.  The city declined, and renovated the park in 2002. 
"The major thing they did was they removed all the of the granite benches that were there, these giant slabs of granite that were these great skateable elements," says Philadelphia architect Tony Bracali.  "And they replaced them with Williams and Sonoma-ish wood benches that look like they belong in an 1890s kind of park."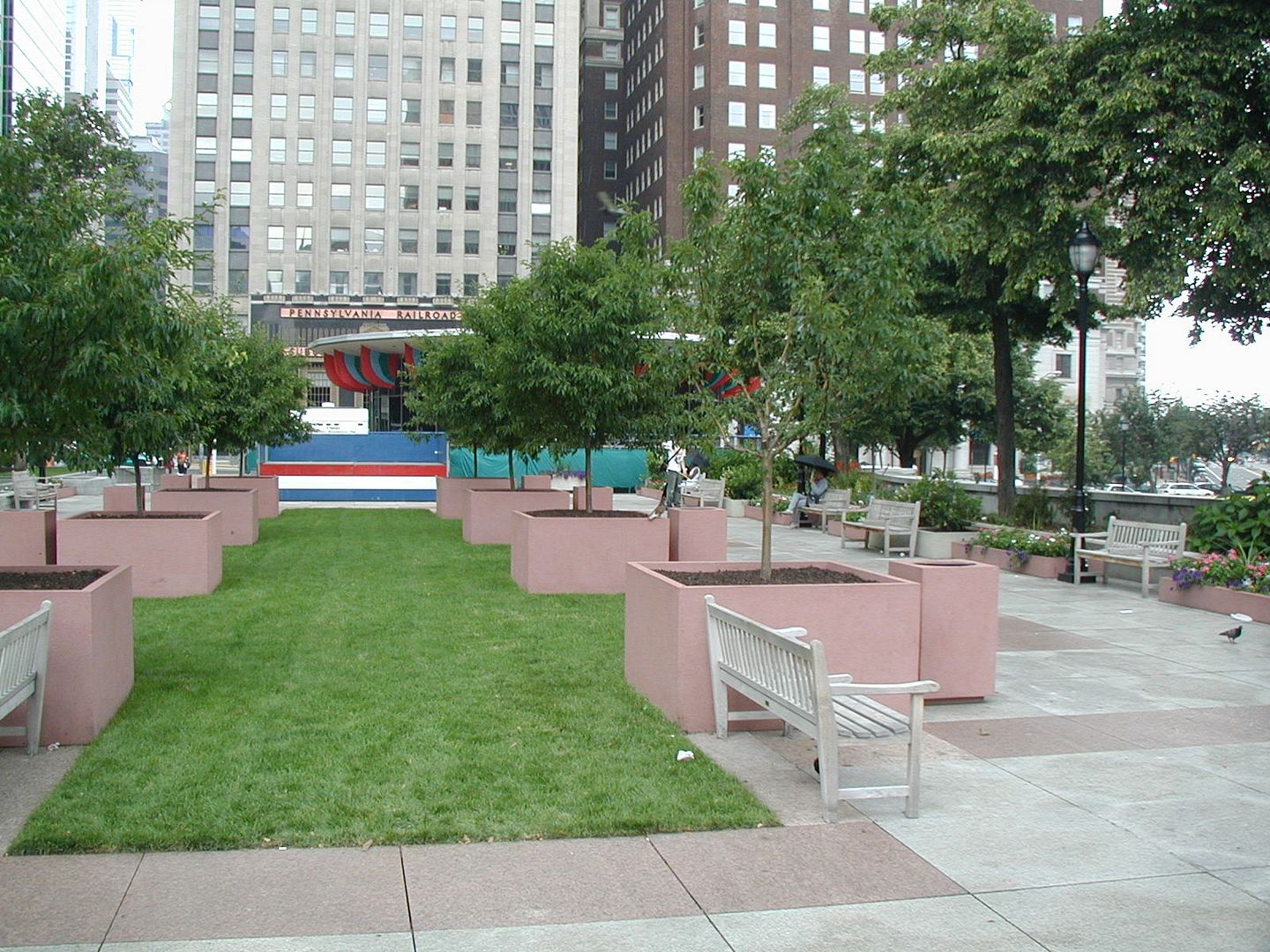 (LOVE Park after the renovation. Credit: Tony Bracali)
Though Bracali is not a skateboarder himself, he's become an advocate for skateboarders' rights, and argues that skateboarding actually improves the life of public places. 
Here's Bracali giving a tour of LOVE Park after the renovation in a documentary called Freedom of Space (beginning at 36:30)
LOVE Park's renovation didn't just upset the skateboarders.  Edmund Bacon, one of the park's designers, was so impressed with the skateboarders' ability to find a new use for the space he designed, that at age 92, Bacon skated in LOVE Park in protest of the crackdown..
Edmund Bacon Skates Love Park from WHYY on Vimeo.
Other cities deployed anti-skating countermeasures as well.  In San Francisco, innocuous-looking marine life sculptures were installed around the Embarcadero to render ledges ungrindable, and "skatestoppers" were put on ledges at another SF skating landmark called Hubba Hideout.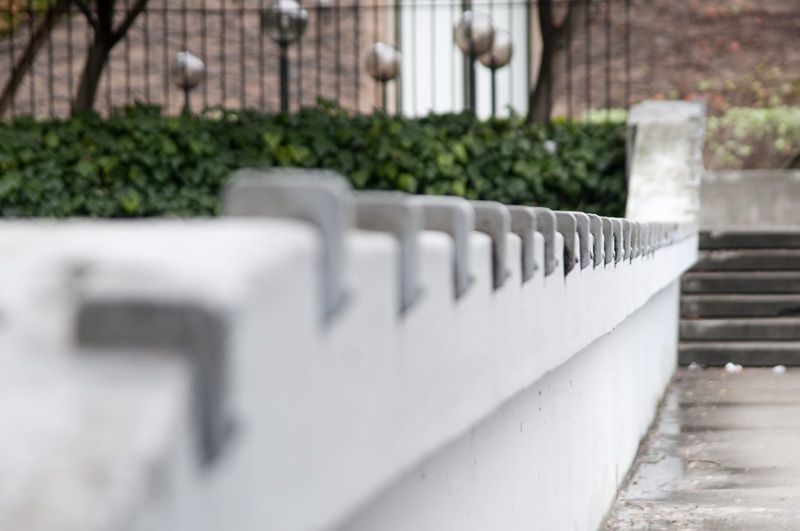 (Credit: Andrew Norton)
But skateboarding culture is a culture of adaptation.  DC Shoes, after failing to keep LOVE Park from being renovated, opened their own skate park in Kettering, OH, using similar features found in LOVE Park.  Tony Bracali, the architect, is working to create skateable public places. so skating doesn't have to be confined only to the skate park. And in Tacoma, WA, skateboarders won the right to remove skatestoppers in what is now known as Thea's Park.
If you don't skateboard, don't live in Philly, or don't want to get chased by the cops, you can skate LOVE Park virtually—and in a few different ways, too.  Tony Hawk's Pro Skater 2 was the first to include a LOVE Park level, but some gamers have re-created their own LOVE Park in other games, such as EA Skate 3.  
Our reporter this week is Andrew Norton, a Toronto-based skateboard photographer-turned-radio producer. Andrew Norton is a proud graduate of the Transom Story Workshop, led by our friend Rob Rosenthal from HowSound.